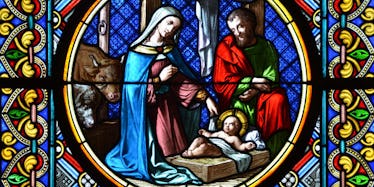 An Abandoned Newborn Baby Was Found In The Nativity Scene Of A Church
Getty Images
A newborn baby was found in the nativity scene of a Queens church on Monday.
According to New York Daily News, the discovery was made by Jose Moran, 60, a custodian at the Holy Child Jesus Church in Richmond Hill.
After having lunch, Moran began sweeping the floor at around 1 pm and soon heard a child crying.
Moran told the Daily News,
I followed the cries. I walked to the little nativity home we had installed inside the church ... I couldn't believe my eyes. The baby was wrapped in towels. He still had his umbilical cord. He was next to the Virgin [Mary].
The wooden nativity structure was only completed an hour before Moran found the baby boy, who had been placed in the spot that will be occupied by Baby Jesus on Christmas Day.
Moran went to the office of the parish priest, the Reverend Christopher Ryan Heanue, and the two called 911, The New York Times reports.
Doctors at Jamaica Hospital Medical Center determined the boy was born full-term about four or five hours before he was found and was perfectly healthy.
Father Heanue, 28, told The New York Times,
I think it's beautiful. A church is a home for those in need, and she felt, in this stable — a place where Jesus will find his home — a home for her child.
Surveillance video showed a woman with a baby walking into the church and leaving a few minutes later without the baby.
Police also found footage showing this same woman buying towels at a store not far from the church. Store clerk John Lv told the Daily News the woman had a baby wrapped up inside her coat and seemed "pretty calm."
New York law states parents can anonymously leave unwanted infants under 30 days old at police stations, hospitals, firehouses and churches.
To avoid prosecution, however, the parent must tell someone at the location about the child or leave the child with a person at the location.
Police said the woman in this case chose neither option and, therefore, may face charges.
Father Heanue said,
Pope Francis has called this a year of mercy in the church. This is a year of mercy, and what better way to be merciful than to find a home for those in need.
On Tuesday, the baby was reported to be undergoing treatment at Jamaica Hospital.
At least one member of Holy Child Jesus Church already volunteered to adopt him.
Citations: Newborn baby boy found in Queens churchs nativity scene with umbilical cord still attached (New York Daily News), Healthy Newborn Found Abandoned in Nativity Scene at a Queens Church (The New York Times)