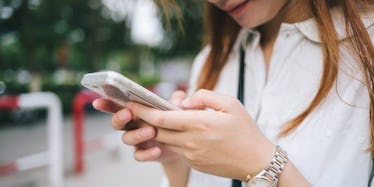 New Video Finally Reveals What The iPhone 8 Would Look Like In Shiny White
Is there anything more agonizing than waiting for the new iPhone to arrive?
Apple experts continue to test our patience (or lack thereof) with a theory that the company's most-anticipated product might not be arriving in September like they promised.
It's fine, though. Apple still needs to perfect the phone's advanced features, so we won't rush them.
But when a concept video emerges days after the news of the item's possible delay, well, it's a dagger to our tech-loving hearts — especially since the video finally reveals the phone in shiny white.
Ugh, how much are we supposed to take?!
Mashable reveals Thiago M Duarte and Ran Avni's concept video is the first of the kind to show the coveted cell in something other than jet black.
However, we aren't certain if there will even be an iPhone in white, so we'll have to keep waiting.
For now, let's fantasize about the possibilities.
The enticing video takes a few iPhone 8 rumors into consideration and disregards others.
For example, it shows the fingerprint scanner underneath a glass screen. However, it shows the rear camera positioned horizontally instead of vertically -- the widely-rumored position -- according to Mashable.
Even though the video begins with the jet black appearance, it changes to the possible white body style about halfway through the clip.
It's really building the anticipation.
The sleek and delicate features definitely look worth the wait. If these videos are even remotely accurate, Apple has truly outdone itself for the phone's 10th anniversary.
Have a look at the video for yourself and join us in the nail-biting suspense.
Pretty cool, right?
We definitely have to give credit where credit is due. Has our society ever been so excited about the appearance of a phone?
When you take the phone's possible looks and capabilities into consideration, you have to give Steve Jobs major respect for creating a brand that keeps us captivated with its every move.
I'm not going to lie, I'll probably buy the iPhone 8 in black (like my soul).
Sorry not sorry.
Citations: New video shows what the iPhone 8 might look like in shiny white (Mashable)