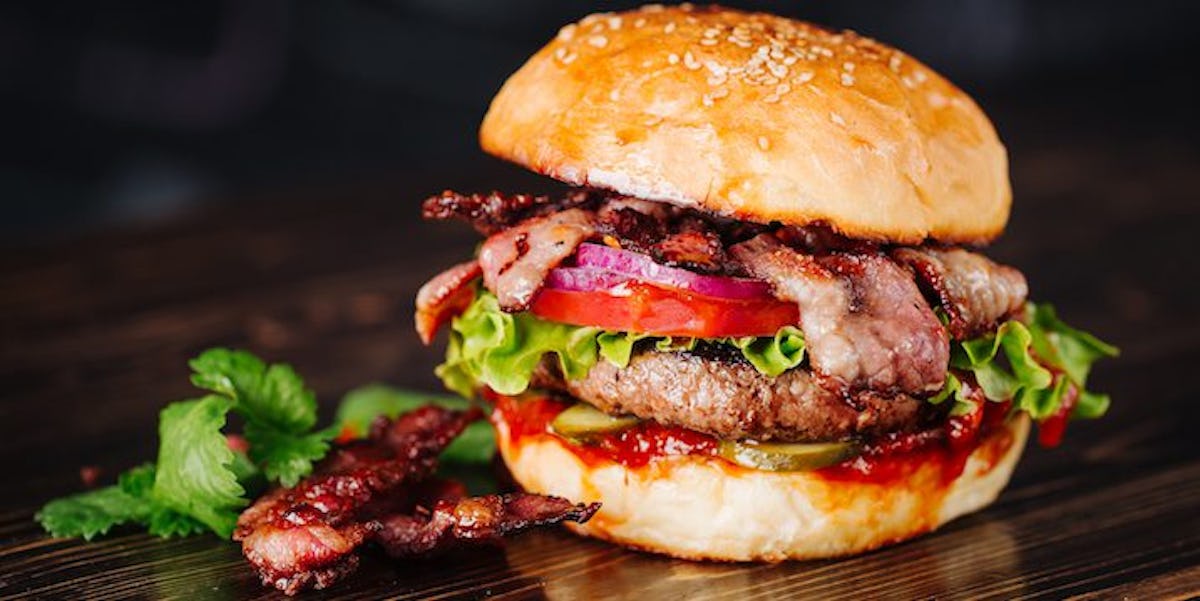 Burger King Added Menu Dedicated To Bacon Because It Understands Our Hungover Minds
Shutterstock
Do you know what makes everything a little bit better? Bacon.
Adding the savory meat to just about anything will make your meal — or snack, I don't judge — much tastier.
Burger King gets it. The fast-food chain just answered our bacon prayers and added a menu dedicated to our favorite breakfast meat.
Bacon lovers, behold the delicious new menu, "Bacon Feast," which was released on Wednesday, April 12:
HOLY CRAP. LOOK AT ALL OF THAT BACON!
Unless you're a vegetarian, the sight of sizzling bacon on a Burger King patty coated with "baconnaise" is enough to make your mouth water.
Plus, can you imagine curing a hangover with one of these bad boys? A combination of burgers and bacon is the perfect recovery dish after a night of drinking.
It might not be too healthy, but let's focus on the positives here, OK?
The new bacon-themed menu includes three different burgers and crispy bacon cheese bites that look tasty AF.
Each burger on the menu uses "baconnaise," which I'm assuming is a delightful mayo that tastes like bacon. What a dream!
The burgers include the Bacon Double Cheese XL, the Smokey Baconnaise Angus and the Smokey Baconnaise Tendercrisp.
So, whether you prefer your bacon atop a meat patty or a chicken breast, Burger King has you covered.
If you're feeling daring and craving a ton of meat, I'd suggest the Bacon Double Cheese XL. With this hefty choice, you'll get double the beef topped with crispy bacon slices.
If you're really, really feeling adventurous, I'd get a side of Bacon Cheese Bites to top off the experience.
I guess I should tell you one small detail that might prevent you from being able to experience the new bacon-inspired menu.
Right now, it's only available for a limited time in Burger Kings throughout the UK.
Let's cross our fingers the menu hits BKs in the US in the near future.
Citations: Burger King has launched the bacon packed menu of your dreams Read more: http://metro.co.uk/2017/04/12/burger-king-has-launched-the-bacon-packed-menu-of-your-dreams-6569946/#ixzz4e33ngztL (Metro), Burger King launch new Bacon Feast menu… including THREE new burgers and a twist on cheese bites (The Sun)