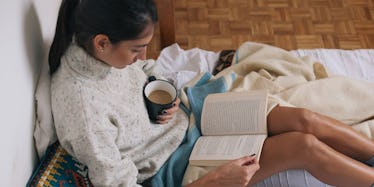 7 Book Releases That Give Us Something To Look Forward To In 2017
Think about it: What's better than coming home to a hot cup of tea and a good book?
If you're anything like me, you'll throw some ice cream into the mix and have a real party on your hands.
Treats aside, I love ending the day with a good story, and each year we're offered a plethora of new releases to indulge our literary fancies.
The new year promises plenty of new purchases for our bookshelves, so get your bookmarks out and boil some water for your chamomile.
Here are seven 2017 book releases that promise to offer a good breather for bibliophiles (should things get out of hand like they did in 2016).
The author who brought us our favorite shopoholic returns to fiction sporting a theme that holds true in the real world: Not everything on social media is what it's cracked up to be.
Journey alongside Katie Brenner throug her workplace nightmare, her love life and the trials and tribulations of her Instagram handle.
In this debut, Mel and Sharon are two opposites who forge their way into the male-dominated indie film scene and learn all about life, creativity and each other.
But when the past resurfaces, everything is threatened, including their first full-length feature.
If you're still craving the same thrill from "Girl On The Train," Hawkins returns with another suspenseful tale, this time chronicling the story of women who lost their lives at the bottom of a river that runs through town — in turn, rehashing secrets from the past many thought were long buried.
With a new year comes ample opportunities to host get-togethers with friends. But if channeling Rachel Ray isn't really your MO, "Sloshies: 102 Cocktails Straight From The Freezer" can be a saving grace for your backyard BBQs.
This June release offers simple, yet delicious treats to offer your guests. And let's be real: It's probably a good call if you don't really know your way around the kitchen.
The book promises to help its readers "grow, harvest and arrange stunning seasonal blooms," and after getting my farmer's market fix, I know I'm going to need some help making my apartment look aesthetically pleasing with my new flowers (provided I don't kill them on the subway ride home).
I'm ready to go all Martha Stewart in here.
Though most of us think the most crucial aspects of the selfie are good lighting and an on-point makeup job, this cultural critic tackles selfies from a historic point of view, explaining how this has impacted our beloved digital age.
One of our own — Elite Daily Managing Editor Greg Dybec — is set to release his first book in January 2017, detailing many issues we Millennials face on a daily basis: rent, relationships and forging our way into a promising future.
We're rootin' for ya, Greg!