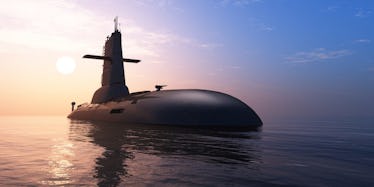 Navy Sailors Secretly Filmed Female Officers In The Shower For 10 Months
Shutterstock
For nearly a year, male US Navy sailors secretly filmed female officers undressing and bathing.
According to the Navy Times, two sailors admitted to recording female sailors undressing before every shower they took during two patrols on a ballistic missile submarine called the Wyoming.
One other male sailor was implicated in filming the women, but up to 12 sailors in total reportedly filmed, distributed, watched or knew about the videos.
The two patrols took place from August 2013 to November 2013 and March 2014 to June 2014.
Using two cell phones and an iPod Touch, the sailors went to unguarded areas and discovered "a limited viewing area of the bathrooms/heads via piping penetration air gaps in the bulkheads," or essentially holes in the wall, according to a Navy report.
Cell phones and iPod Touches are essentially banned on the Wyoming, so it is not clear how the devices went undetected.
The recording ring in which the videos were shared went on for 10 months, with an investigation only starting when news of the videos spread to another ship.
Missile Technician 2nd Class (MT2) Jonathan Ashby told an investigator he didn't report the videos due to embarrassment and fears of the disciplinary action that would follow.
MT3 Brandon McGarity cited a similar excuse in his own statement, saying,
I was still somewhat new to the division and so I didn't want to say anything because the higher ranking MTs would always treat the lower ranks like trash and would always try to put them down. So I didn't want to worsen my life more than it already was, so I tried to ignore it and stay out of it for fear of being disowned by the division.
At least two sailors, including McGarity and Ashby, had videos sent to them, but they reportedly deleted the videos almost immediately after learning what they contained.
Out of the 12 suspects, 10 faced punishments including dishonorable discharge, demotion, decrease in pay and jail time.
MT2 Charles Greaves, the alleged ringleader of the recording scheme, pleaded guilty to recording and distributing the videos and was dishonorably discharged and sentenced to two years in prison.
It appears just one of the 12 was released with no charges.
In the aftermath, crews aboard the Wyoming were ordered to complete a command-climate survey and submarine-culture workshop.
Citations: Report: Sailor ring repeatedly filmed undressing women on sub (Navy Times)