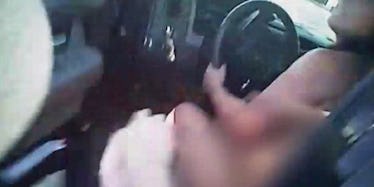 Naked Woman Caught On Video Stealing Sheriff's Car While He Gets Her A Blanket
Maricopa County Sheriff's Office
Police have released body cam footage of the moment a naked woman stole a sheriff's truck in Arizona.
The bizarre video opens with a woman, identified as Lisa Luna, casually wandering around in the nude on South Butterfield Road in Gila Bend on Thursday, January 5.
When Deputy Francisco Campillo approaches Luna, she claims she has been raped – a statement she has since recanted.
He reaches into the back of his truck to get the 31-year-old a blanket. But when he walks around the other side of the vehicle, Luna is in the driver's seat.
Campillo tries to open the door as the truck screeches off – sending him to the ground.
It sparked a high-speed chase over 70 miles which ended with a collision on Interstate 10 near Eloy.
The deputy was treated for minor injuries and is back on duty.
Luna faces multiple charges, but a court date has not yet been set.
A spokesperson for Maricopa County Sheriff's Office said in a statement,
MCSO had responded to calls that a disrobed woman, later identified as Lisa Luna, was walking up S. Butterfield Road in Gila Bend. Deputy Francisco Campillo offered Luna a blanket to cover herself when she entered his vehicle and left the scene. When Deputy Campillo first encountered Lisa Luna at the scene, she told him she had been sexually assaulted, a story she recanted while in custody.
The spokesperson added the deputy will be investigated as per standard procedure.
The deputy was compassionately assisting what he believed to be a sexual assault victim when Luna took his vehicle. MCSO's Professional Standards Bureau continues its review of the actions taken by the deputy in this incident. This is standard procedure.
Luna is currently being held at Maricopa County jail on a $50,000 bond.