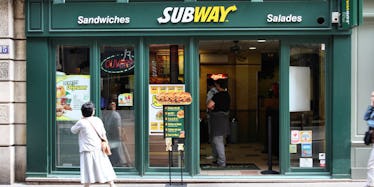 Completely Naked Woman Absolutely Destroyed This Subway Restaurant
Shutterstock
A woman stripped off her clothes before terrorizing a Subway in Alaska yesterday.
According to KTUU, the woman was fully-clothed when she walked into the Anchorage restaurant at around 5 pm. There were no customers inside at the time, but numerous employees were on duty.
The woman went to the bathroom and did not come out for about two hours, employees said. She had no clothes on when she exited the bathroom, and she proceeded to break furniture, knock over computers, rip off ceiling tiles, throw food everywhere and spray a fire extinguisher.
Police arrived sometime after 7:30 to subdue the woman, who then underwent a medical examination.
Medics reportedly told police the woman was likely high on synthetic marijuana, also known as "spice" or K2.
Police Sgt. Shaun Henry said such behavior is not an uncommon effect of the drug. Henry explained,
Some people just lay down and go to sleep. Other people become extremely hostile or violent. You never know what you're going to get and that's part of the danger with [synthetic marijuana] is you don't know what it's going to do to the human body and you get sometimes these very extreme reactions.
An employee also reportedly found human feces when he cleaned the floor.
The woman did not injure anybody and was reportedly receiving treatment at a hospital near the restaurant at the time.
Sgt. Henry said the woman will likely face felony charges after her health improves.
Citations: Naked woman destroys Subway restaurant in Anchorage (KTUU), Suspect believed to be on spice disrobes, trashes East Anchorage Subway (KTVA)