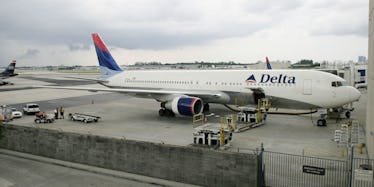 Multiple People Killed In Mass Shooting At Florida Airport — Here's What We Know
REUTERS
Update 3:38 pm EST:
The Broward County Sheriff said there's no second active shooter, and "at this point" it looks like the shooter acted alone.
Update 3:08 pm EST:
The suspect has reportedly been identified and is a 26-year-old male who was born in New Jersey.
President Obama has been briefed on the situation, according to the White House.
President-elect Donald Trump also addressed the shooting in a tweet.
Meanwhile, there are unconfirmed reports of more shots fired at the airport. Some seem to believe this means there is possibly a second shooter at the airport, but this is not yet clear.
Security is still very tight at the airport, and there is a great deal of law enforcement patrolling the area.
The airport remains closed.
On Friday, a gunman opened fire at Fort Lauderdale-Hollywood International Airport, leaving multiple people dead, The New York Times reports.
The Broward Sheriff's Office tweeted at least five people were killed, eight were sent to a local hospital and one suspect is in custody.
The deadly incident reportedly occurred at a baggage claim inside Terminal 2.
Flights have been suspended, and the terminal is being treated as a crime scene.
Witnesses to the shooting described a very chaotic scene, with people screaming and running for their lives.
Disturbing footage of bleeding victims being treated at the airport has also emerged.
There is also footage from inside the baggage claim area, where travelers appear to be assisting people who were wounded.
There seems to be ongoing panic and confusion at the airport as police continue their investigation.
This is yet another tragic example of gun violence in America.
Last year, gun violence claimed nearly 15,000 lives and there were more mass shootings than days.
According to an analysis from Vice News, there were 370 mass shootings in total in 2016.
We are less than one week into 2017, and there have already been roughly 200 deaths from gun violence in America, according to Gun Violence Archive.
To put this in perspective, jihadists have killed 94 Americans on US soil in the 15 years since the 9/11 terror attacks.
In other words, in the first six days of 2017, gun violence has killed more than twice the number of people in the US than jihadism has in roughly a decade and a half.
This is food for thought for any Americans who might fear terrorism more than gun violence, which leads to far too many deaths in the US every single year.