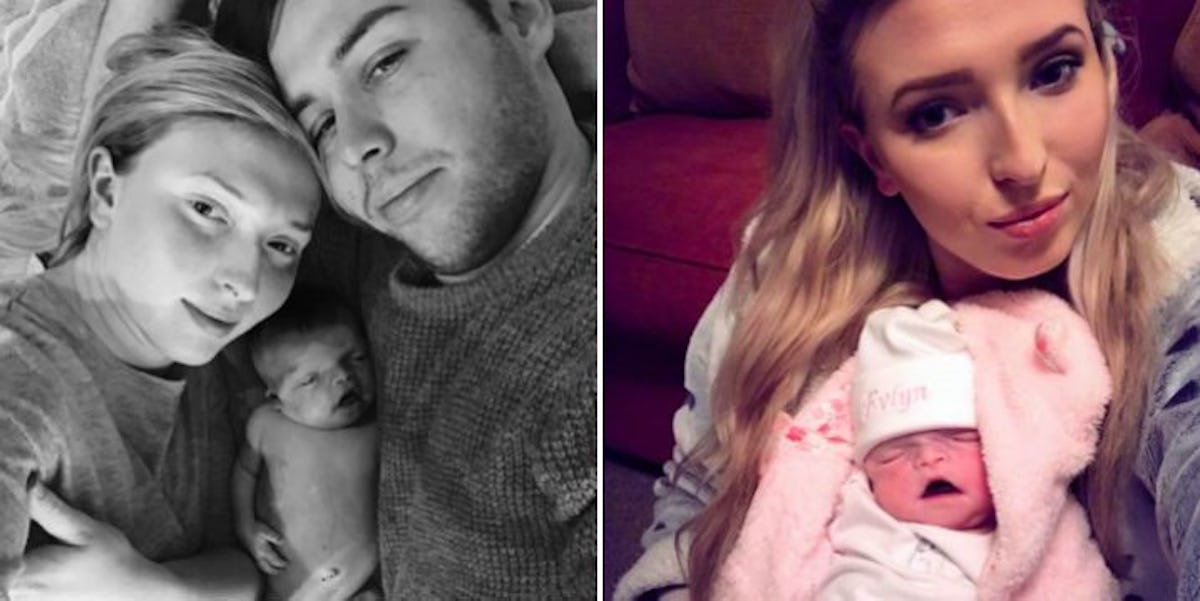 Mom Went On Walks With Her Dead Baby For 16 Days, Shares Heartbreaking Message
Facebook
Charlotte Szakacs hopes heartbreaking photos from her experience of losing her baby girl will help others during the grieving process.
During their daughter Evlyn's 20-week scan, Charlotte, 21, and her husband Attila, 28, were told their child had a chromosome abnormality.
Evlyn was born three months later on December 13, weighing 5 lbs, 5 oz. Her brain was underdeveloped and totally smooth. The airways in her nose and lungs were too narrow, as was her aorta.
Evlyn beat the odds and lived for four weeks before she passed away in Charlotte and Attila's arms on January 10.
Many parents face this very sad reality, but there are breakthroughs to help with the grieving process.
Charlotte, who is a paint technician, and Attila, an engineer, spent 12 days at a hospice where Evlyn was kept in a "cuddle cot."
Evlyn was kept in the refrigerated "cuddle cot" and her family could even take her out for family walks during the days they spent in hospice and the four days they spent at home before her funeral on January 26.
Charlotte said,
So many people have never heard of parents being able to spend that time with their babies and other mums reached out to me saying they think it would have helped so I really want to raise awareness. I know it might not be the best option for everyone but for us it was so important to be able to have that family time - and just properly cuddle our little girl. I think having the time with her made such a difference. Being able to do so many of the things you imagine like taking her out in her pram, it really helped emotionally.
After Evlyn was born, she got progressively worse, and doctors suggested moving her to a hospice.
Eventually Charlotte and her husband agreed -- they didn't want to watch their daughter die on a ventilator, surrounded by doctors and machines.
The first-time mother said,
It was the hardest decision you could ever make as parents, but I knew keeping her at the hospital would just be selfish. Evlyn was moved to the hospice on January 10 and I have never seen her so calm. We got to hold her and cuddle her properly for the first time for an hour before they turned off the ventilator.
After they removed her breathing tube, Evlyn passed away. Her mother said she was so weak she didn't take a single breath.
Charlotte continued,
I was holding her in my arms as she went and her dad had his arms around us both. We stayed at the hospice for 12 days and would take Evlyn out of her cuddle cot for five to 10 minutes for cuddles or to go for walks around the garden with her. And then we were allowed to take Evlyn and her cuddle cot home for the last four days. Her last night she slept in her actual cot we had got for her in our room.
Charlotte and Attila were married in 2015 and tried having a child for a year before they found out they were expecting Evlyn on April 29, a day before Charlotte's birthday.
It was a totally normal pregnancy up until the 20-week scan, which showed Evlyn had a hypoplastic aortic arch.
When Evlyn was born, she was rushed to a ventilator -- her parents didn't see her for seven hours, and they couldn't hold her for three days.
Charlotte said,
I would love to have her here, I would give so much to have that, but we have no idea what her life would have been like. At least now she isn't suffering.
Citations: Mum who spent 16 days with dead baby daughter taking her body for walks in pram shares heartbreaking photos (Mirror)