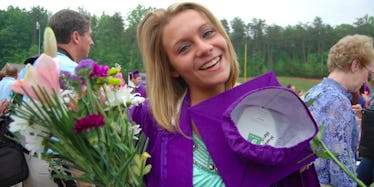 Mom Speaks Out On Daughter's Fatal Overdose At Taco Bell: 'Heroin Is The Devil'
Facebook
A heartbroken mother has spoken out after her 22-year-old daughter died from a heroin overdose in a Taco Bell bathroom in King, North Carolina.
Madison Bailey Marini had struggled with addiction for months before her death on Thursday, December 29.
In a tearful interview with KTLA 5, her mom, Claudia, branded heroin "the devil."
She said,
She had so much compassion deep in her. She loved to read and sing and she was brilliant. There's so much I want to tell you but I can't think of it all. She went down a different path and stopped going to school and those things weren't important any more.
Her life spiraled out of control, and she was arrested multiple times for shoplifting and possession. She went to court and spent time in jail.
Claudia explained the family sought help for Madison and for a while, it looked like it was working. She continued,
It's an illness, she was sick. We convinced her to go into treatment and she was wonderful, it was like the old Maddie.
The last time Claudia saw her daughter alive was at Christmas, where "even though she was 22, every time she opened a gift it was like she was five."
In the hours leading up to her death, Madison posted an emotional note to her mom on Facebook telling her how much she loves her. She died later that day.
Claudia said,
She was alone. She died alone, in a bathroom, in a Taco Bell. What I hang onto everyday of my 22-year-old daughter is a piece of her hair because I can't hold her and I can't touch her and I can't brush her hair.
The mom added,
Heroin is the devil and that's why these kids need help because no one wins against the devil.
Citations: KTLA5