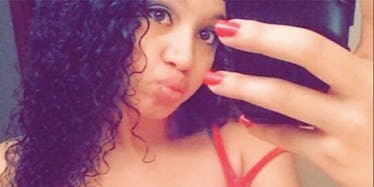 Mom Takes Pics Of Herself Giving 5-Month-Old Son Blow Job To Sell As Porno
Facebook
A teen mom allegedly photographed herself performing oral sex on her baby son before sending the homemade child porn to a man.
The offenses by 19-year-old Jazmine Nichole Pacyga came to light when an acquaintance of hers became aware of the sexual abuse and contacted police, according to Michigan Live.
Pacyga, of Muskegon Township, Michigan, is being held in the Muskegon County Jail on charges of first degree criminal sexual conduct and manufacturing child porn.
She has been accused of taking pictures while giving her 5-month-old son oral sex and sending the photos to 32-year-old Nathan Eric Osborne.
According to an abuse and neglect petition filed by the Michigan Department of Health and Human Services (DHHS), Pacyga admitted to sexually abusing her baby on February 5, Michigan Live reported.
Osborne allegedly persuaded Pacyga to carry out the act and send him pictures.
Muskegon County chief assistant prosecutor Timothy Maat said Osborne has been charged with persuading, enticing or inducing a person to produce child sexually abusive materials, using a computer to commit the inducement crime, distribution of child sexually abusive material and possession of child sexually abusive material.
Maat added,
This case is still under investigation and our office will be evaluating additional charges.
The DHHS petition claims Pacyga's home is unsuitable for the baby due to "drunkenness and neglect," adding her parental rights have been suspended.
The child has been removed from her care and efforts are being made to find his father, court documents state.
If convicted of the charges, she could be jailed for life, while Osborne could be jailed for 20 years.
Pacyga's bond has been set at $200,000, and she is due to appear in Muskegon County District Judge Geoffrey Nolan's courtroom on February 23.
Osborne's bond was set at $500,000 and he will next appear in court on February 28.
Citations: Man accused of coercing teen to sexually assault her baby, produce porn (Michigan Live)