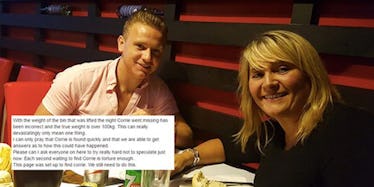 Mom Pens Tragic Post On Detail Cops Missed That May Ruin Search For Missing Son
Facebook
The mom of a serviceman who has been missing for six months has revealed the detail police missed as they investigated her son's disappearance.
Corrie McKeague, 23, has not been seen since he vanished while on a night out with friends in Suffolk, England, on September 24 last year.
It's feared the Royal Air Force airman fell inside a bin before being taken to a landfill — and searchers are now attempting to locate his body at the site.
In a heartbreaking Facebook post on a page dedicated to finding Corrie, his mom, Nicola Urquhart, said a mix-up with the weight of the bin delayed the investigation.
Initially, the bin was dismissed as a potential clue, as its weight was listed as 24 lbs — but it turns out it actually weighed more than 180 lbs.
Nicola wrote,
The weight of the bin that was lifted the night Corrie went missing has been incorrect and the true weight is over 100 kg. This can really devastatingly only mean one thing. I can only pray that Corrie is found quickly and that we are able to get answers as to how this could have happened.
She asked people not to speculate, adding, "Each second waiting to find Corrie is torture enough."
Meanwhile, detective superintendent Katie Elliott defended her team, noting they spotted the mistake after checking data that had been supplied to officers.
She said,
I wouldn't describe it as an oversight. We check and recheck data we are provided. It's only when we've gone back and looked through thousands of lines of data we've found this.
They were investigating after surveillance footage captured the movements of a garbage truck which appeared to coincide with the location of his phone.
An operation is now underway at a landfill site in Cambridge, England, and Elliott said she is "confident" Corrie's body will be found there.
However, the search is expected to take up to 10 weeks.
Meanwhile, the missing soldier's pregnant girlfriend, April Oliver, penned a tragic post as she posted a picture of the couple together.
On April, 21, she wrote,
I miss you Corrie every second of the day and night.
She found out she was expecting his baby just two weeks after he disappeared.
Citations: 'I miss you every second of the day': Pregnant girlfriend of missing Corrie McKeague shares a heartbreaking photo of the couple as landfill search enters its fifth day (DailyMail.com)