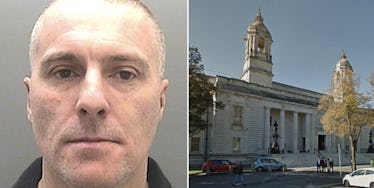 Mom Sends Naked Pics Of Daughter Bathing To Pedophile In Disturbing Rape Plot
South Wales Police/Google
The mother of a 7-year-old girl and a pedophile have been given lengthy jail sentences for plotting to rape the young child.
The woman, who cannot be named for legal reasons, was sentenced to nine years in jail, while 54-year-old Stuart Bailey was sentenced to 13 years.
Cardiff Crown Court in Wales heard the two exchanged "depraved" text messages detailing plans of a sexual attack on the girl. The mother even sent Bailey naked photos of her child.
The woman's then-partner found the messages on her phone and reported her to the police.
Bailey, of Rhydyfelin, Pontypridd, South Wales, and the woman were found guilty of conspiracy to rape a girl aged under 13. Bailey was also convicted of encouraging the distribution of indecent photographs of a child and encouraging the sexual assault of a child by another woman.
Previously, the woman admitted distributing five indecent images of a child and Bailey admitted possessing them.
At their sentencing, the judge, the recorder of Cardiff Eleri Rees QC, said Bailey contacted women on Plenty Of Fish, where he would talk about sexual activity and see how far he could push the women.
She said,
The discussion, unless cut short by the women, would then escalate to you encouraging them to [engage in] sexual activity with children.
An investigation into the mother, prompted by her former partner, led police to Bailey, who was having similar discussions with other women.
Rees added,
You met once face to face for sex. During that encounter you, Bailey, saw a photograph of [the 7-year-old girl].
The mom sent Bailey pictures of her daughter naked in the bath and in her school uniform with her underwear showing, the court learned. Both Bailey and the woman claimed they never had any intention of carrying out the act.
But after talking about drugging the girl, and despite being advised by her GP not to give her melatonin, the mother bought the drug online.
They planned to rape the girl during a Welsh school holiday, and Bailey mentioned giving the woman sums of £200 to £300 ($249 to $374) in exchange for allowing him to rape her.
Lucy Crowther, defending Bailey, said he was "totally ashamed of his behavior and his actions, which he acknowledges will affect his grown-up children and his partner, who is currently standing by him."
Alex Greenwood, for the woman, said social services had identified her as a person at risk of being manipulated by men prior to the offenses, and she had been "bullied, cajoled and blackmailed" by Bailey.
Citations: Woman jailed for nine years for plot to let man rape daughter, seven (The Guardian), Mother jailed for plotting to let paedophile rape her own daughter (Wales Online)