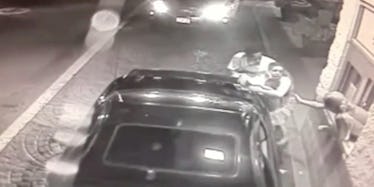 Desperate Mom Tries Giving Baby To McDonald's Staff To Save Her From Dad's Rage
CCTV
A frazzled mother was filmed trying to hand her baby to a McDonald's employee at a drive-thru so the child could escape the wrath of her abusive father.
In the horrifying scene caught on a surveillance camera, Jessica Wilson got out of the vehicle before struggling to bring her 2-year-old daughter to the window.
Her boyfriend, Levenski Crossty, followed her out of the car and aggressively restrained her from handing their baby to the worker.
The terrifying incident took place on July 16, and Crossty's trial began on February 7, Cincinnati.com reports.
Apparently, Wilson's four children were inside their Pontiac Grand Am upon arrival.
While Crossty ordered food for their kids, Wilson escaped from the car through the passenger door while carrying their daughter — the only child who belongs to Crossty.
Her boyfriend became enraged and followed her out of the vehicle, holding her back as she reached out and tried to escape.
As Wilson scaled the vehicle, Crossty tried his hardest to take their daughter from her arms, but the mother eventually made her way to the window.
Not before long, the McDonald's employee reached for their baby. According to a prosecutor, she said,
Hand the child to me.
Just when the toddler is in the arms of the both the mother and the employee, Crossty grabbed her, got into the car and drove away.
Wilson was left alone, desperately asking for someone to call 911.
It's been reported the couple's night went downhill prior to the McDonald's trip when Crossty broke into Wilson's home where she stayed with her kids.
He entered through a window and interrogated her for being unfaithful.
After Crossty broke in, the couple got into the car where Crossty harassed Wilson for the passcode to her phone and beat her, leaving her with black eyes and bruises.
After driving off and making a stop at Crossty's sister's house, the family drove to McDonald's where the incident took place.
Apparently, Crossty claimed Wilson was intoxicated and he was trying to protect the kids from her.
His prosecutor, Stephan Madden, said Crossty took the children to Wilson's father's home after fleeing McDonald's.
Madden defended Crossty's actions, and said,
There is no abduction, there is no kidnapping, there is no theft.
During his trial, he called what happened a "misdemeanor domestic incident."
However, Crossty is charged with felonious assault, theft and multiple counts of abduction and kidnapping.
Citations: Mom describes 'terror' with child at drive-thru window (Cincinnati.com)