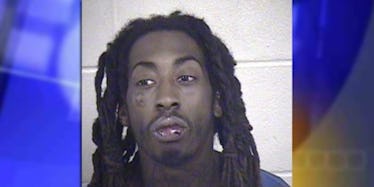 Mom Defends 2-Year-Old From Man Trying To Pull Down Her Diaper And Rape Her
YouTube
A Missouri woman came to her daughter's rescue after a sick pervert allegedly attempted to pull down her diaper and rape her at a local playground.
According to Fox's Kansas City affiliate WDAF, a man identified as William L. Bates Jr. was arrested and charged with first-degree attempted sodomy and attempted statutory sodomy after he allegedly tried to rape a 2-year-old girl.
The mother says she was watching her daughter play on a swing at a Kansas City playground when Bates allegedly ran up behind the 2-year-old, took her off the swing and tried to pull her diaper down.
The little girl's mother told police the man had been "eyeballing" her child before the attempted crime.
It was when the man allegedly began to pull his pants down and thrust himself against her daughter that she quickly jumped up to get Bates off of her child with a flurry of punches.
Law enforcement officials say the woman knocked Bates to the ground and unloaded on him with nonstop punches. Bates reportedly fled the scene following the altercation.
The terrified and infuriated Missouri mother then left the playground and ran into a nearby homeless shelter with her 2-year-old daughter, according to reports.
Police eventually located Bates and took him into custody. During his arrest, authorities found marijuana on him. They also found "an unidentified white vial of fluid with a chemical odor."
The man was taken to the Jackson County Detention Center where he was questioned. Bates allegedly told police that he took a cigarette from a stranger near the playground, smoked it and "blacked out."
He apparently became coherent only after he had already allegedly attempted to rape the child.
As of now, William L. Bates Jr. is currently being held on a cash bond amount of $150,000 and has been given a court date of March 29.
And now we must ask ourselves: What the fuck is wrong with the human race?
Citations: Mother Fights Off Playground Pervert Allegedly Trying To Rape Her 2-Year-Old Daughter! (Perez Hilton)