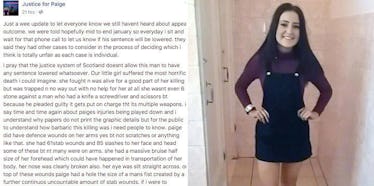 Mom Details Daughter's Awful Murder On FB After Killer Asks For Light Sentence
Facebook
A heartbroken mom has posted a reminder about the horrific injuries her daughter suffered — after her killer asked for a lighter sentence.
Deli owner John Leathem, 32, was jailed for at least 27 years after murdering 15-year-old Paige Doherty in Scotland last March.
The teenager was stabbed more than 60 times during the brutal attack that left her dead within 10 minutes of entering Leathem's store. When her body was examined, more than 140 injuries were found.
However, Leathem wants his sentence reduced and has been granted an appeal hearing.
The news moved her mom into posting an emotional message on the Facebook group — and it's a harrowing reminder of the injuries suffered by the part-time hairdresser, who was just 4 feet 8 inches tall.
She wrote,
I pray that the justice system of Scotland doesn't allow this man to have any sentence lowered whatsoever. Our little girl suffered the most horrific death I could imagine.
She then lists the "graphic" details of the injuries Paige sustained as she tried to keep Leather from attacking her, which were mostly head and face injuries.
Describing the killing as "barbaric", she then wrote,
As Paige's mum, I take no pleasure in disclosing these details and do not wish anyone to be upset, it breaks my heart to say it out loud as I picture her wee face and how bad she looked but I feel that for as much support and help as we need then people need to know the true facts. Please bear in mind these injuries were contained to one side of her face and neck only the other side was as perfect as before she had been attacked.
Her post ends with a desperate plea — though she concedes that she is not hopeful Paige's family will get the result they want.
Please say a wee prayer and hope that when we do hear back that it is the right result. For now I don't hold much hope.
Citations: Murdered teenager's mother posts graphic reminder of daughter's injuries as killer asks for shorter sentence (Metro)