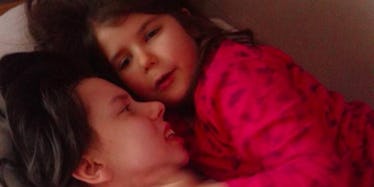 Mom Who Fell Into 7-Year Coma During Birth Wakes Up And Finally Meets Daughter
Facebook
A woman has met her 7-year-old daughter for the first time after falling into a coma while giving birth.
Danijela Kovacevic developed sepsis during childbirth in 2009, and for years, her daughter, Marija, longed for her to wake up.
The girl reportedly kept a vigil by her mom's bedside in Indjija, Serbia, and now Danijela has shocked doctors by waking up.
Heartwarming images show the mom, now 25, and her daughter cuddling up for the first time, though Danijela faces the daunting task of relearning simple motor skills.
She is currently unable to speak or feed herself.
A family friend said,
After school, Marija is close to her mama every day. She comforts her, makes her laugh and does not give up the hope that she will touch her and embrace her.
Her family has started a GoFundMe page with the hope of raising funds for her expensive rehabilitation costs.
She has already been through extensive physical and speech therapy, but her family say it needs about $50,000 for her treatment to continue.
Her father, Djordje Kovacevic, said,
These are minor recoveries, but Danijela is much better that before. She has put on weight, she is more aware and more alive. She reacts, smiles and gets angry. You are (essentially) teaching a kid to do certain things. She had very hard training. She walked 800 meters, and that is a big achievement.
She has advanced to the stage where she can hold a tablet and pen in her hand, and follow conversations.
But her grandma, Mary Vesna, told Blic the family still has a lot of costs, including diapers.
She said,
We manage as best we can. She needs her diaper changed every three hours, each day, plus food and medicine. The money people donate can help us gather ourselves and focus on her care.
Citations: APEL ZA POMOĆ Danijela je 7 GODINA U BUDNOJ KOMI i potrebno joj je 65.000 evra za rehabilitaciju (Blic), Woman who fell into SEVEN-YEAR coma after developing deadly sepsis during childbirth finally wakes up...to meet her daughter for the first time (MailOnline)