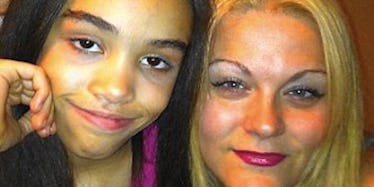 'Monster Mom' Charged With Beating Kid Until Stomach Burst After Starving Her
Facebook
There are some cruel individuals in the world who just aren't meant to be parents.
Case in point: the evil mother charged with beating her daughter until her stomach burst — after starving her in a closet.
On January 17, Nicholette Lawrence, a 34-year-old from Waukegan, Illinois, was sentenced to 43 years behind bars for brutally murdering her 11-year-old daughter, Raashanai Coley, after subjecting her to a long period of abuse.
Lawrence was arrested on September 5, 2014, after she delivered a single punch to her daughter's midsection and caused the child's stomach to rupture. The 11-year-old girl was found unresponsive in the family's home and later died from her injuries.
Police questioned Lawrence, who confessed she had punched her daughter in the stomach two days prior to her death.
According to reports from Lake County Coroner's office, Coley died from an infection that developed after her stomach ruptured as a result of blunt force trauma. If that's not bad enough, the autopsy revealed Coley has endured severe abuse leading up to her death.
The young girl was famished, weighing only 67 pounds and covered in scars and cigarette burns, which led authorities to believe she suffered a great deal of physical abuse and starvation.
The Daily Herald said during Lawrence's court hearing, testimonies revealed the mother had locked her daughter in a closet without a bed each night and repeatedly hit the young girl with a belt.
On September 3, 2014, the "monster mom," gave Coley a final beating that would ultimately end her life. Lawrence delivered a blow to the emaciated girl's stomach with such force, Coley's ribs tore a hole in the lining of her stomach.
During Lawrence's sentencing, Circuit Judge James Booras said,
Who would lock a child up in a closet furnished only with a sink and feed the child only a bowl of cereal a day?
According to Chicago Tribune, Judge Booras said, based on the photos, it looked as if Coley has spent time in a concentration camp. He added,
How can humans do this? Animals don't do this to their own.
Lawrence apologized for her awful behavior during the last hearing, saying,
I just want to say to you and everyone that I am truly sorry for what has happened. There is not a second of the day I am not tormented by pictures in my mind. I rarely sleep.
Upon sentencing Lawrence to 43 years in prison, Judge Booras stated she must serve the prison sentence in its entirety and, therefore, will not be granted early release for good behavior.
The judge did, however, give Lawrence credit for the time she has already spent behind bars since 2014.
Citations: 'How can humans do this?' Judge slams 'monster mom' who murdered her emaciated daughter, 11, by punching her so hard that her stomach burst as he sentences her to 43 years behind bars (DailyMail.com), Judge to Waukegan woman who killed daughter: 'How can humans do this?' (Chicago Tribune), Waukegan 'monster mom' gets 43 years in prison for killing daughter (Daily Herald)