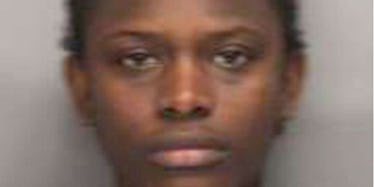 Mom Arrested After Making Preteen Son Walk Naked Around School As Punishment
Cobb County Police Department
We've all endured unpleasant punishments as the result of bad behavior. Maybe your parents grounded you from going out, made you hand over your cell phone or sentenced you to a long list of chores.
As kids, we always think our parents are evil beings, or that they get some sort of sick enjoyment out of using disciplinary actions to make us miserable.
But once you reach adulthood, you begin to realize your parents only grounded you to teach you values and make you a better person.
However, a stern mother from Georgia recently took one of her children's punishments a little too far.
That's right: A mom was just arrested for making her 11-year-old son walk naked around school.
Yeah, and you thought YOUR parents were cruel for sentencing you to a timeout in the corner, or revoking your television privileges.
The 32-year-old woman, Joyce Sweetheart Cole, was charged with child cruelty and detained by the police after she made her 11-year-old son strip down and walk outside his elementary school as punishment.
PEOPLE reports Sgt. Dana Pierce of the Cobb County Police Department stated Cole was detained on November 1, and released later that day after making the $5,000 bail.
Now, you're probably wondering what on earth this kid did to receive that kind of punishment.
Apparently, Pierce said administrators called Cole into the elementary school about one month prior in order to address a bullying incident that involved her son and a female student.
During this meeting, Cole allegedly told her son she would  "embarrass" him if he continued to cause mischief at school.
She clearly wasn't kidding. She made good on her promise after her son allegedly got into another altercation with the girl and kicked her on the morning of Halloween.
Apparently, Cole was called back to the elementary school to meet with administrators in order to discuss disciplinary actions for the boy.
It was after this that the mother made good on her promise to embarrass her son.
Pierce told PEOPLE,
The meeting ends and the parent stripped the 11-year-old of his clothing and sent him on out to her car in the parking lot. The school's staff, including several teachers, went to the 11-year-old's aid, trying to clothe and cover him so he could avoid being embarrassed.
If that's not bad enough, Pierce also alleges the mother hit her son on the head with her hand while she following him through the parking lot.
After the boy's naked walk of shame in front of the whole school, Cole and her son drove off.
However, this wasn't the end of the kid's punishment.
Pierce claims,
Just prior to arriving at their apartment complex, she again told him to get out of the car and he was told to walk home, into the apartment complex, without clothes on.
Cole has not yet entered a plea for the child cruelty charges facing her. All her children are being held in state custody as a result of Cole's actions.
Citations: CRIME Georgia Mom Allegedly Made 11-Year-Old Son Walk Around Nude Outside School as Punishment (PEOPLE)