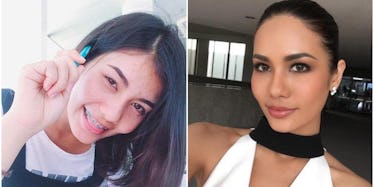 Model Says These Simple Beauty Hacks Were Key To Insane 6-Month Transformation
Instagram
These two photographs show the amazing transformation of a Miss Universe beauty queen.
But the most incredible part of Chalita Suansane's rise to stardom is how quickly she went from geek chic to belle of the ball.
The 22-year-old's beauty pageant career only kick-started last year — and she never harbored dreams of being a successful model.
Taken as recently as a year ago, pictures of Chalita, who was studying microbiology at Mahasarakham University at the time, show how she barely resembles the person she is now.
Photos from a private album taken within the last year and obtained by MailOnline show she wore thick-rimmed glasses and had braces.
It was only in July last year that her sister applied for Miss Thailand on her behalf -- and it everything changed.
So what was the secret of her transformation?
Chalita said,
I never thought I would ever be a model. My sister just joked that we should send in my resume for the Miss Thailand competition. When I applied for Miss Thailand my face didn't change at all. I just did a lot of exercise and lost some weight. The rest was down to make-up, healthy eating and sunbathing. And a few new dresses.
For real though, this reminds me of when I was an ugly kid who thought I'd have braces forever. I wish I could tell younger me that things get better.
Just look at Chalita — she was whisked away from classes, her braces came off, she had an intense makeover and a beauty pageant champion was born.
She lost 15 lbs thanks to her fitness regime and new diet, and swears by sunbathing to bronze her skin.
Add to that a collection of designer dresses worth thousands, and you've got a pretty extensive makeover.
Also, and this is important — she's never had a boyfriend. This is a woman who came 6th in Miss Universe last year, people! So time to step up, fellas.
She confessed she's been held back by her protective mom, but explained she'll have one "when I'm ready."
Citations: MailOnline