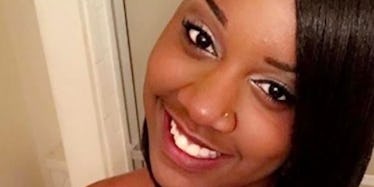 Pregnant Model Takes Haunting Last Pic On Tracks Before She's Killed By Train
Facebook
An aspiring young model has died after being struck by an oncoming train while taking photographs on the railroad tracks.
On March 10, Fredzania Thompson was standing between two sets of tracks in Navasota, Texas, during a photoshoot trying to launch her modeling career when a BNSF Railway train approached.
Thompson, 19, moved out of the way, but did not notice a Union Pacific train hurdling toward her from the opposite direction.
According to Union Pacific Spokesman Jeff De Graff, the train's horn was sounded and the emergency brakes had been applied, though it was too late to save the young woman.
Navasota Assistant City Manager Shawn Myatt said,
Basically, you have two railroad tracks there, one is Burlington Northern to the west, and one is Union Pacific to the east, and she was in between the two tracks. Burlington Northern had a train on their track coming and she turned back to the east to walk across the Union Pacific track and walked right in front of the Union Pacific train that was heading south.
The photographer who accompanied Thompson that day was not hurt during the incident.
One of the last haunting photos taken of Thompson shows her beaming at the camera while posing on the railroad tracks moments before the train approached.
The 19-year-old, who had put her education on hold to pursue a career in modeling, was reportedly engaged to a man named Earl Chatman. A few weeks before her tragic death, the two discovered they were expecting a child together.
A GoFundMe page has since been established to help pay for Thompson's funeral.
The page says,
We are asking for support from our local community and surrounding areas to help raise money for the funeral of Fredzania Thompson anyone that knows her she always had that beautiful smile at every sight of her. She was one of the most beautiful caring person you could ever meet. If you ever needed someone to talk to she was always there she was a truly good person. Words can not explain how the city of Navasota is feeling at this very moment or her fiancé and family but we are asking for support and your generosity to help put this Beautiful young lady to rest.
Citations: Pregnant model died taking this picture to try and launch her career (Metro.co.uk), Fredzania Thompson Funeral (gofundme)