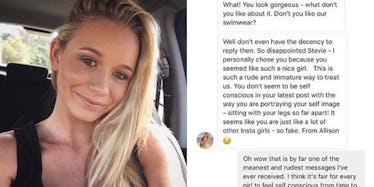 Model Brutally Slut-Shamed By Boss For Feeling Self-Conscious About Bikini Pic
Instagram
A young model was brutally slut-shamed on Instagram after hesitating to let a swimwear company use a photo that made her feel "self-conscious."
Stevie Alger, a Queensland model in her early 20s, was contacted by the owner of Aquadiva Swimwear on March 8, Daily Mail reports.
Its owner, Allison Appleby, told Alger there was going to be a "huge poster" of her on the wall at an upcoming Aquadiva pop-up shop.
Stevie was concerned about the photo Appleby and her team chose, so she voiced her opinion.
Alger politely responded to the message and said,
Okay. I just don't really like that photo of myself and my boyfriend and all of my friends will be there competing so I'm just self conscious but I know I can't really do anything about it.
Quite obviously, that wasn't the response Appleby wanted to hear.
Instead of understanding Alger's point of view, the owner lashed back with an insulting message referencing another photo on the model's repertoire.
Appleby wrote,
Well don't even have the decency to reply then. So disappointed Stevie — I personally chose you because you seemed like such a nice girl. This is such a rude and immature way to treat us. You don't seem to be self conscious in your latest post with the way you are portraying your self image — sitting with your legs so far apart! It seems like you are just like a lot of other Insta girls — so fake. From Allison
Alger, in shock from the designer's response, wrote back,
Oh wow that is by far one of the meanest and rudest messages I've ever received. I think it's fair for every girl to feel self conscious from time to time...
After receiving the shocking message, Alger's boyfriend allegedly posted the messages onto his Instagram account, but has since deleted them.
However, Appleby been receiving mass backlash from what she wrote and is trying pretty hard to take back what she said so her family business will not be damaged.
The designer talked to Daily Mail Australia and said,
I feel so sick to the stomach about it. I have apologized to Stevie twice now, but she has not accepted my apology. What can I say? I've been in the business for 30 years — what I did was wrong. I was so distraught with what happened. I was horrible to her. It was very out of character. She got one nasty bitch slap from me, and now I'm getting hate mail from people who don't know the full story. I've had people call me a a cow and a pig. They don't know me, it's unfair but I have to own up. I'm ashamed of it. If I could take it back, I would.
Appleby defended her message even more by stating she didn't even know what "slut-shaming was," because she's not "completely savvy with all the technology young people use these days."
She also stated Alger was paid for her company's photoshoot and understood they would promote her modeling pictures.
Still, Alger was appalled by Appleby's message and told Daily Mail Australia,
I absolutely think what she said and how she has handled herself is wrong in so many ways, but I think it will be best to end it here to hopefully move on. I'm a huge believer in standing up to bullies and I'm lucky to have [my boyfriend] by my side to help me. I'm very happy that at least we made a point and hopefully she will never treat someone like that again.
She continued,
I think it'll be best to leave her to deal with her issues herself now. I'm happy that at least we made a point and it gained enough traction to gain attention.
It's safe to say Appleby won't be slut-shaming any new models in the near future.
Citations: 'You don't seem self-conscious sitting with your legs apart': Bikini brand accused of 'slut shaming' a girl after she stopped them using her photograph wearing their products (Daily Mail)