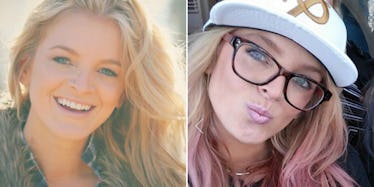 Missing Woman Found Walking Freeway Days After Stranger Texts From Her Phone
Facebook
A woman who was missing for three days was found wandering along a freeway about 60 miles from home.
Laura Lynne Stacy, 28, has been reunited with her parents, who became worried when she stopped replying to their texts.
Her phone was found in a puddle 30 miles from her home in LA, where she was last seen by her roommate as she left their apartment on Sunday, January 22.
Laura's disappearance became even more mysterious — and terrifying for her loved ones — when her car was found abandoned another 30 miles from the location of her phone.
She was eventually found on the 14 Freeway near Avenue K by detectives who were on their way to search for her.
LAPD detective Tim O'Quinn told KTLA she appeared "disorientated" and "confused."
He added,
There's a lot of unknowns as to what transpired.
Laura was exposed to harsh cold weather following a storm on the East Coast and also suffered from dehydration.
She was taken to hospital for what detectives said was a precautionary medical check, FOX reported.
Detective O'Quinn told KABC-TV,
I'm sure the parents are pleased. This type of successful end is what we hope for in law enforcement. You don't get it often on cold nights. It's a great outcome to this story.
The search for Laura — who recently moved to the city from Colorado — included her parents, who flew over to help look for her.
They were given some hope when they received a text from her phone on Monday, January 23, but it was sent by a stranger who picked up the lost cell.
It remains unclear why she went missing, but police said there were no "obvious signs of foul play."
Laura's mom Marcy said she believed her daughter visited Golden Valley Park to take photographs. Marcy Stacy believes her daughter lost her phone, got lost without the GPS and ran out of gas.
Citations: Missing 28-Year-Old Woman Found Alive After Abandoned Car Located in Antelope Valley (KTLA), 28-Year-Old Woman Missing for Days Found Alive: LAPD (KABC-TV), Missing Hollywood Hills woman found alive, authorities say (FOX)