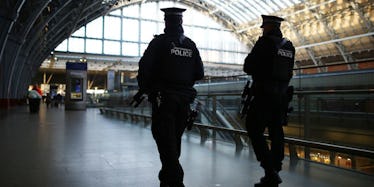 Man Cleared Of Rape Charge After Saying He 'Fell' On Top Of 18-Year-Old
Getty Images
A millionaire was reportedly cleared of rape after claiming he fell on top of the alleged victim and his penis may have accidentally penetrated her.
According to Mirror, 46-year-old property developer Ehsan Abdulaziz met the 18-year-old woman at an exclusive London nightclub on August 7, 2014.
She was accompanied by her 24-year-old female friend whom Abdulaziz had apparently met previously.
He asked the women if they'd come back to his apartment for a drink, and they allegedly accepted the offer.
Abdulaziz, who is of Saudi descent, claimed he had sex with the 24-year-old at the apartment while the 18-year-old fell asleep on the sofa.
However, the 18-year-old claimed to have woken up with Abdulaziz trying to have sex with her in the early hours of the next morning, New York Daily News reports.
Prosecutor Jonathan Davies reportedly said,
She woke up with the defendant kissing her and his penis in her vagina, she was wearing shorts and he had pulled them to one side.
The woman then ran from the apartment and called the police.
Traces of Abdulaziz's DNA were found inside her vagina, but the millionaire denied the rape.
He said the young woman pulled him on top of her and put his hand between her legs as he tried to wake her up to ask if she would like a shirt to sleep in or a ride home.
According to Abdulaziz, his penis might have been poking out of his underwear at the time, which could have allowed the organ to land inside the woman's vagina as he fell on top of her.
Abdulaziz allegedly told the court,
I'm fragile, I fell down but nothing ever happened, between me and this girl nothing ever happened.
He also theorized his DNA may have ended up inside the 18-year-old because semen may have been on his hands after having sex with her friend.
Jurors reportedly deliberated for just 30 minutes before acquitting Abdulaziz of one count of rape.
Mirror reports some of the defendant's testimony was presented in private quarters, suggesting Abdulaziz went into great detail to demonstrate the logistics of this apparent accident taking place.
Citations: British man accused of rape told police he may have penetrated teenager after falling on top of her (New York Daily News), Millionaire businessman cleared of raping teenager after he told court he may have accidentally penetrated her (Mirror)