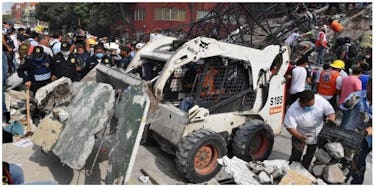 The Mexico City Earthquake Has Killed Over 200 People. Here's How To Help.
YURI CORTEZ/AFP/Getty Images
On Sept. 19, an earthquake slammed central Mexico, destroying buildings, crushing cars, and trapping some residents underneath the wreckage. Children were killed at their schools and volunteers rushed to chaotic scenes across the city, trying to save people lodged beneath the rubble. With all of this tragedy happening, it's easy to feel helpless, particularly if you're too far away to actually physically lend a hand. But there's a lot of different ways you can assist from afar, though. Here's how to help Mexico earthquake victims.
As of Sept. 20, the earthquake has claimed the lives of at least 230 people in the region, The Associated Press reported. The earthquake registered an initial magnitude of 7.1, crushing around 40 buildings and other infrastructure throughout Mexico City. Both emergency workers and good samaritans rushed to various building sites, and dug through rubble to try to save people trapped underneath. In areas of the city where buildings had crumpled, a strong smell of leaked gas filled the air – causing many to worry that explosions would start to occur.
This is the second earthquake to hit Mexico in less than two weeks. On Sept. 8, a giant earthquake with a magnitude of 8.2 struck down on the southern coast, making for one of the most powerful earthquakes in Mexico's history. At least 37 people died and 200 people were injured in the the states of Oaxaca, Tabasco and Chiapas, according to The New York Times. Still countless more were trapped under rubble, after infrastructure crumbled.
Photos and videos show the sheer magnitude of devastation.
Here's some organizations you can donate to right now.
Direct Relief is a humanitarian aid organization with staff in Mexico City. The non-profit will be dedicating 100 percent of all donations to earthquake relief efforts. They write,
As the full extent of damage comes into focus, Direct Relief will continue working with medical companies and government agencies in Mexico to bring needed medical supplies to areas of need.
The crowd funding organization GlobalGiving has pledged that all donations will go directly to providing food, shelter, fuel, water, and hygiene products to earthquake victims. Per their giving page, 
By funding the relief efforts of local organizations, donations to this fund have the potential to build stronger response capacity so that these organizations are better equipped to face future challenges.
You can donate to Mexican Red Cross by making a direct contribution, and/or purchasing individual items on an Amazon Wish List for victims. 
Project Paz has partnered with El Paso Community Foundation to help victims of the earthquake in Chiapas and Oaxaca, two areas that were devastated earlier this month. They write,
100% of donations made through the El Paso Community Foundation and its partners in Mexico will go to help victims of the earthquake in Chiapas and Oaxaca.
The United Nations Children's Fund specifically helps children who have been affected by natural disasters. You can give to UNICEF Mexico here.
Oxfam Mexico will be providing relief on the ground in Mexico. Donations can be made here.
And Los Topos is a professional rescue crew, created after an earthquake hit Mexico City in 1985 They have been trained to go into collapsed building and rescue survivors. Donations can be made directly to the group via Paypal at donativos@brigada-rescate-topos.org.
Of course, not all charities are created equal. If you'd like to vet where you're donating, check out Charity Navigator, a site that has ratings for 8,955 charities. You can see where the organization's expenses go, as well as how they've ranked in terms of transparency and accountability.
And for those people who are in Mexico and able to help, here's a Spanish-language list of volunteer opportunities and donation drop-off locations.
Donate what you can, and sending all the good thoughts to Mexico.