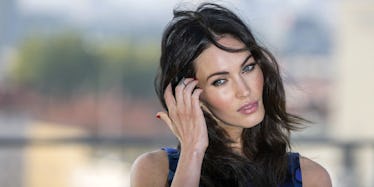 A Guy Spent $3.7M To Sleep With Megan Fox, She Didn't Show And He's Not OK
REUTERS
I can think of a lot of things I would do if I had $3.7 million to spare.
Maybe buy a vacation mansion or two. Maybe invest in a nice swagged-out boat. Maybe get myself an endless supply of Chanel purses. Or Louboutins. Or maybe just, like, someone to dress me all the time.
Ooh! Or one of those computer programs, like the one Cher Horowitz had, to tell me if my outfits match or not. Yes, definitely one of those.
But $3.7 million for one night with Megan Fox? OK, yes, I know I'm biased as a straight woman. But I'm mentally swapping her for my own celebrity crush, Ashton Kutcher, and I've just gotta say... no.
Probably not on the top of my list. Probably not on the bottom either. Probably just not on the list at all, if we're being honest.
This is for many reasons. The first of which is I would probably feel super awkward when Ashton arrived because he knew I was so obsessed with him that I literally shelled out $3.7 million to hook up with him.
Second, because I really like Mila Kunis and would rather not be an evil home-wrecker.
But the third, most logical reason would be because part of me would know the person telling me he'll hook me up with Ashton Kutcher for the small fee of $3.7 million is probably full of horse shit.
Apparently, I'm a lot smarter than a super successful Chinese businessman who decided to shell out $3.7 million to hook up with Megan Fox and some other famous babes.
He apparently paid the large sum to an escort agency as a fee to have sex with supermodels and A-list actresses.
Yu "Martin" Xu claims he paid Australian escort agency, Royal Court Escort, for "sexual services" from actress Megan Fox, Victoria's Secret Angel Candice Swanepoel (not Jalili... I know, weird) and Chinese actress Angelababy.
But... get this, you guys... THE A-LIST STARS DIDN'T SHOW UP TO BOINK HIM.
So he has decided to file a suit in Supreme Court. Can't wait to see how this case goes over.
Citations: Guy Who Paid $3.7 Million To Have Sex With Megan Fox Is Suing Because, Shockingly, No One Showed Up (BroBible)