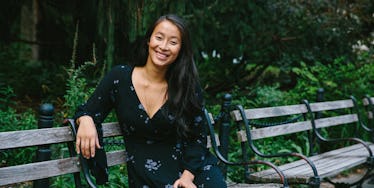 Meet The 18-Year-Old Who Just Won $10,000 To Get Homeless Women Tampons
Nilaya Sabnis
Nadya Okamoto calls it her "time of transition."
In the spring of her freshman year of high school, Nadya's mother, who had moved her and her younger sisters away from an abusive household to Portland, Oregon, lost her job.
Her mother couldn't afford their house anymore, so the family moved in with a friend. But the friend lived far away from Nadya's school.
To get to school, Nadya had to travel up to two hours. She always saw the same homeless women on the bus commute, so she started talking to them, and they bonded.
During her sophomore year of high school, Nadya was in a physically abusive relationship. She spent a night at a shelter. There, too, she spoke with women less privileged than she.
Nadya learned homeless women shared one major concern -- one which all women share, in varying degrees -- they needed tampons and pads for their periods.
Women told her they would use things like newspapers and grocery bags as impromptu pads.
In her time of transition, Nadya was struggling.
She was dealing with self-harm and anxiety. She felt powerless and depressed, especially following a sexual assault.
She was feeling pessimistic, but then the transition progressed. She said "being exposed to how privilege is really a spectrum and how I had been disregarding how privileged and blessed I was to have an education and a family" made it harder for her to feel negative about her life, despite the serious challenges she was facing.
With the privileges she did have, including a great school, Nadya felt like she had to do something to help those less privileged.
She asked Vincent Forand, who was always "super organized in class," to help her with a project. They spent six hours in a Starbucks working on a plan.
They launched Camions of Care in the spring of her sophomore year of high school.
Camions of Care distributes pads, tampons and other feminine hygiene products to homeless women.
Along with distributing the products, Nadya fosters other young leaders to build their own chapters at universities and high schools to help their own local communities.
In the two years since the organization was founded, over 30 schools formed chapters. They have a presence in 17 states and nine countries.
Camions of Care has addressed over 25,000 periods in two years.
While the nonprofit has helped thousands of homeless women, founding it helped Nadya pull herself out of her depression.
I actually think it was my saving grace.
Founding Camions of Care empowered her. She realized she had the ability to make real change and help women. When she talked, people listened.
Nadya is now 18-years-old and a freshman at Harvard University.
Nadya was named a 2016 L'Oréal Paris Women of Worth Honoree, it was announced on Monday.
The 10 2016 nominees were chosen by a panel of judges from thousands of nominations.
With the honor, Camions of Care was awarded $10,000. Every $1 that goes to Camions gives one woman access to menstrual needs. So when Nadya heard about the award, she only had one thought:
We got enough to serve 10,000 periods.
And now she has the opportunity to serve tens of thousands of more women.
The public can now vote for one of the 10 Women of Worth honorees to win another $25,000 as the National Honoree. You can vote here.
For Nadya, that combined $35,000 looks like 35,000 more women served. It looks like being able to set up more chapters, including in other countries.
She said,
It'd be so cool to be able to spread our impact, that would mean the world to me.
But Nadya knows even the initial $10,000 will improve many women's lives.
And creating this nonprofit has already improved hers. She said,
It was just so empowering for me. Something I am so grateful for is just having the opportunity to be able to lead this organization and to be able to work with an amazing team of youth leaders.
The award is proof her voice has worth, and she's going to continue using it. Nadya is working on a memoir and hopes to provide a platform for survivors of sexual assault.
She's concentrating on social studies at Harvard and hope to work in politics and advocacy for real policy change in the future.
If you want to get involved with Camions of Care, you can reach out to start or join your own local chapter. You can also donate online.
Nadya has no plans to stop her work for Camions of Care.