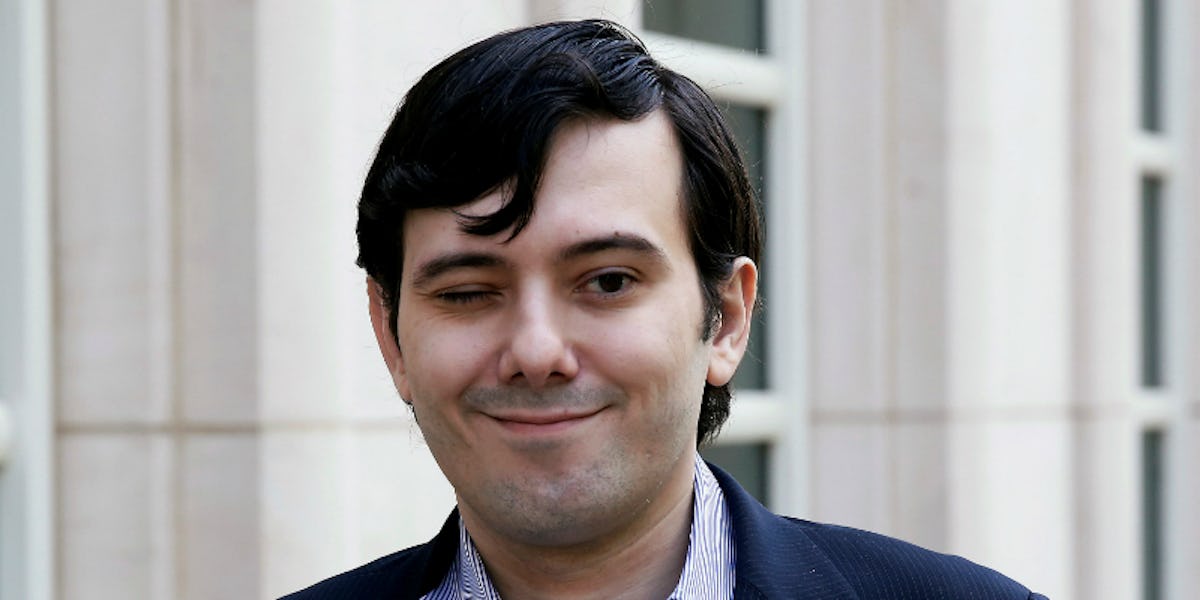 Martin Shkreli Auctions Off The Chance To Punch Him In His Pharma Bro Face
Reuters
Get your wallets ready, ladies and gentleman. I think you're gonna like this.
The former CEO of Turing Pharmaceuticals, Martin Shkreli, who became infamous after he raised the price of an AIDS medication by 50 times, may be making you an offer you cannot refuse.
He is auctioning off the chance to punch him right in his extremely punchable face.
On Monday, the Pharma Bro posted on Twitter to announce that he would give the highest bidder a single chance to punch or slap him in his face.
The bidding is allegedly already up to $78,000, and the money will go to the family of his recently deceased PR consultant Mike Kulich. Kulich passed away in his sleep on Saturday morning.
It's almost a truly touching tribute to the man.
Also, not only do you get to punch Shkreli on or around his mouth hole, you're helping out a child who just lost his father.
Kulich was only 29, and his son had just finished receiving treatment for leukemia.
Shkreli plans to match the winning bid up to a certain point. He will even let the auction winner pass the punch on to another person.
Meaning that, yes, you could win and let an MMA fighter or a boxer throw the hit for you. Shkreli will even allow the punch to be filmed.
It is a fitting PR move for Shkreli, who often gets into Twitter feuds with celebrities and bought the only copy of a Wu-Tang Clan album in order to stay relevant.
Perhaps he learned well from his late friend, Kulich. Kulich is known for convincing a woman to make a porn video for $10,000 simply because she looked like Ted Cruz.
He also encouraged another client, XHamster.com, to ban all users from North Carolina until the state repealed House Bill 2, which prevented cities and counties from passing measures to protect the rights of members of the LGBTQ community.
He even offered Amanda Knox, a woman who spent four years in an Italian prison for allegedly murdering her roommate, a porn contract and was working on getting Corey Feldman to do a concert live on Pornhub.
Shkreli is set to appear in court on June 26, 2017 after he was arrested in December on allegations of securities fraud.
Citations: Martin Shkreli Is Auctioning Off a Chance to Punch Him in the Face (Time)