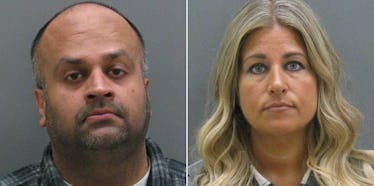 Married Couple Seduces Daughter's Friends On Snapchat To Film Foursome Video
Police
A married couple was arrested after trying to lure young teens into a hotel for sex.
Anuj and Leslie Chopra contacted the minors online and tried to solicit them for paid sexual activities, DailyMail.com reports.
Apparently, the duo from Ottawa County, Michigan, met the teens they began targeting through their 16-year-old daughter and worked together to persuade the minors to adhere to these disturbing sexual requests.
Anuj Chopra, 41, was accused of allegedly trying to get their daughter's young friends to meet inside a hotel, where he planned to film them having sex.
His 42-year-old wife, Leslie, is specifically accused of trying to persuade a 16-year-old boy to have sex with her through highly explicit Snapchat messages.
Police were notified about the dangerous couple after a parent became concerned about their behavior and told the sheriff's deputy how they had been acting.
Upon immediate investigation, authorities studied electronic devices and allegedly found thousands of sexual messages that were exchanged throughout the past month.
The teenagers who the couple was trying to film having sex were supposedly identified by authorities investigating the case. Thankfully, authorities don't believe the teens had sex when the couple tried to persuade them to do so.
Their names have not been released.
However, this husband and wife are now facing serious charges as a result of their attempted sexual endeavors with the minors.
Anuj was reportedly charged with human trafficking for trying to lure his daughter's friends into the hotel room so he could film them.
His wife, Leslie, was charged of distributing sexually explicit materials to minors and using a computer to commit a crime.
The guilty couple reportedly surrendered to authorities and were arrested on Wednesday, February 8, but police are still investigating their case.
As of right now, they have been released on a bond.
Citations: Married couple in their 40s arrested after 'offering to pay their 16-year-old daughter's two friends for sex' (DailyMail.com)