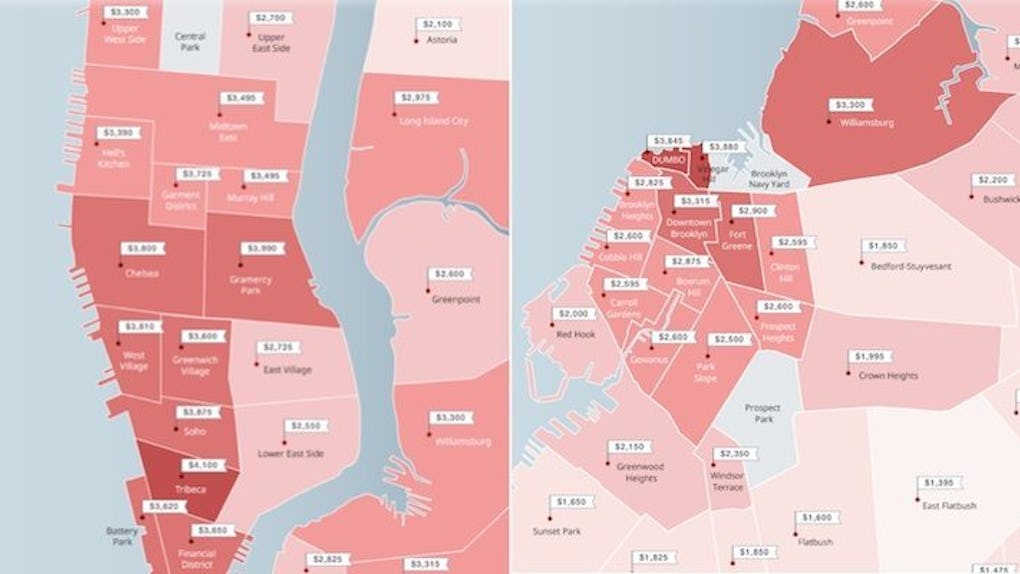 Zumper
This Map Of Current NYC Rent Prices Is Nothing Short Of Depressing
It's no secret living in New York is outrageously expensive, but the rent is getting to a point where friends of mine suggested combining our savings to buy a block of houses in Detroit and live there commune-style as Brooklyn expats.
Proof only makes the reality of rent prices sadder.
Real estate site Zumper recently released a series of maps detailing the average costs of renting one-bedroom apartments in different areas of Manhattan and Brooklyn as of this summer's moving season.
Manhattanites on the hunt for a monthly rent under $2,000 will have to make the hike up to Washington Heights while Brooklynites searching for the same must trek to Bedford-Stuyvesant.
With an overall median rent of $3,100 for a one-bedroom apartment, the New York rental market currently ranks as the second most expensive city after San Francisco, according to Zumper.
Well, I'll see you all in Detroit.
Citations: New Maps Show The Insane Rent Prices Across NYC Neighborhoods (Thrillist)