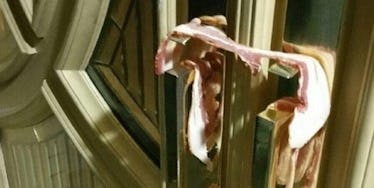 Man Vandalizes Mosque By Wrapping A Bunch Of Raw Bacon Around Its Doors (Video)
A white man was caught on film wrapping raw bacon around the door handles of a Las Vegas mosque over the weekend.
According to Raw Story, surveillance video shows the unidentified man placing bacon at the back door and on the front door handles of the Masjid-e-Tawheed mosque at 3:17 am on Sunday.
Las Vegas Masjid-e-Tawheed vandalized, bacon was wrapped on door handles https://t.co/gaNYQjnFZ4 #Islamophobia pic.twitter.com/GEyk7hdpSD — AKB (@ehmadkarim) December 29, 2015
Muslims are forbidden to eat or even touch bacon and pork, which have repeatedly been used in offensive acts against members of the faith.
KTNV's coverage of the incident features the surveillance footage.
A worshipper reportedly discovered the bacon when he arrived at the mosque around 5:45 am that day.
Another man then wrapped a napkin around the bacon and threw it in the garbage, Las Vegas Review-Journal reports.
The Council on American-Islamic Relations (CAIR) called for the act to be investigated as a hate crime by federal and state authorities.
A board member of the mosque, however, told the Review-Journal he would like to meet the man, give him a hug and find out what motivated his actions.
The 64-year-old board member added he wanted the man to learn the Islamic religion promotes peace.
Metro Officer Larry Hadfield reportedly said the incident is "being investigated possibly as a hate crime," but federal and state authorities have yet to be summoned.
This year saw the most offensive acts against mosques since CAIR began recording such incidents in 2009.
The group reports 71 incidents involving mosques were committed in 2015 -- compared to 20 in 2014, 23 in 2013 and 29 in 2012.
Sunday's incident comes just weeks after the head of a pig was found outside the door of a Philadelphia mosque.
Citations: Vandal shoves raw bacon in his mouth while defacing Las Vegas mosque (Raw Story), Muslim civil rights group calls for hate crime inquiry after local mosque vandalized (Las Vegas Review-Journal)