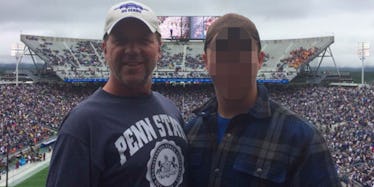 Man Tries To Strangle Wife To Death After Having 'Bad Dream' She Cheated
Facebook
A father of two attempted to murder his wife because he had a dream she was cheating on him, police said.
Conrad Rudalavage launched a brutal attack on his wife Lori Williams-Rudalavage at the family home in Eynon, Pennsylvania, according to authorities.
He has been charged with a string of offenses including attempted homicide, aggravated and simple assault, terroristic threats, harassment and recklessly endangering another person.
Mrs. Williams-Rudalavage told officers he had been drinking heavily earlier in the day, so he went to bed early, according to the arrest affidavit.
When he woke up, he came downstairs and told his wife he had a "bad dream" she was cheating on him and said he was going to kill her, The Times-Tribune reports.
The 49-year-old allegedly punched her in the face and body repeatedly and tried to rip her clothes off, but Mrs. Williams-Rudalavage was able to run outside.
However, her husband soon caught up and tackled her on the driveway, slamming her head on the ground and choking her while continuing to threaten to kill her, police said.
The couple's 17-year-old daughter arrived at the family home and attempted to intervene, police added, but Rudalavage began to strangle her to stop her from calling 911.
The teen managed to struggle free and got help from neighbors, WNEP reports, who pulled Rudalavage off his wife.
He managed to escape the scene while police treated his wife for her injuries but was later found at his family's used car business in Eynon, where he was then arrested.
Rudalavage appeared before Magisterial District Judge Theodore Giglio and was later released from the Lackawanna County Prison after posting $100,000 bail.
He will return to court to face a preliminary hearing on Tuesday at 10 am.
After the incident, Mrs. Williams-Rudalavage was taken to Geisinger Community Medical Center for treatment, authorities said.
Citations: The Times-Tribune, WNEP