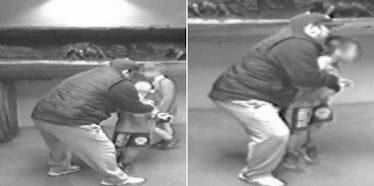 Disturbing Video Shows Moment Man Attempts To Abduct Boy From Wrestling Event
Facebook
A nightmare scenario for parents became a reality when an 8-year-old boy was almost abducted on Friday night at a wrestling tournament.
The young boy was almost taken by a stranger at the US Junior Open Wrestling Championship at the State Fair Park in Oklahoma City, DailyMail.com reports.
The unidentified child was one of 2,000 kids attending the event.
Police reported the attempted abduction on Facebook Monday night, where they released photos from CCTV footage that showed the exact moment the child was grabbed.
Apparently, a 6-foot-tall man dressed in a padded jacket and a baseball cap picked up the child near the Jim Norick Arena's main entrance, but was unsuccessful in his kidnapping attempt after the boy resisted.
It's been reported the child began kicking and screaming, which caused the man to drop him and flee the scene (kudos to this kid's parents -- you guys should be proud).
In the eerie footage, two other kids are present, but there are no parents in sight.
There's an explanation for the lack of adults present, and it's an unsettling one.
Based off a Facebook user commenting on the incident, parents were not allowed on the event floor to accompany their children. If they wished to do so, they had to pay a $50 fee.
Naturally, many parents did not pay and were not there to accompany their kids.
The child was allegedly grabbed in an area that was easily accessible to adults, and it's been claimed that adults in attendance don't need to have any relation to children in the tournament in order to buy a ticket.
Thankfully, the young boy was not taken by the kidnapper after he fought for his life.
Representatives from the United States Junior Open are currently declining to comment on the case and are redirecting all questions to OKCPD.
Citations: Terrifying moment a man tried to ABDUCT an 8-year-old at a children's wrestling competition before the boy managed to fight himself free (DailyMail.com)