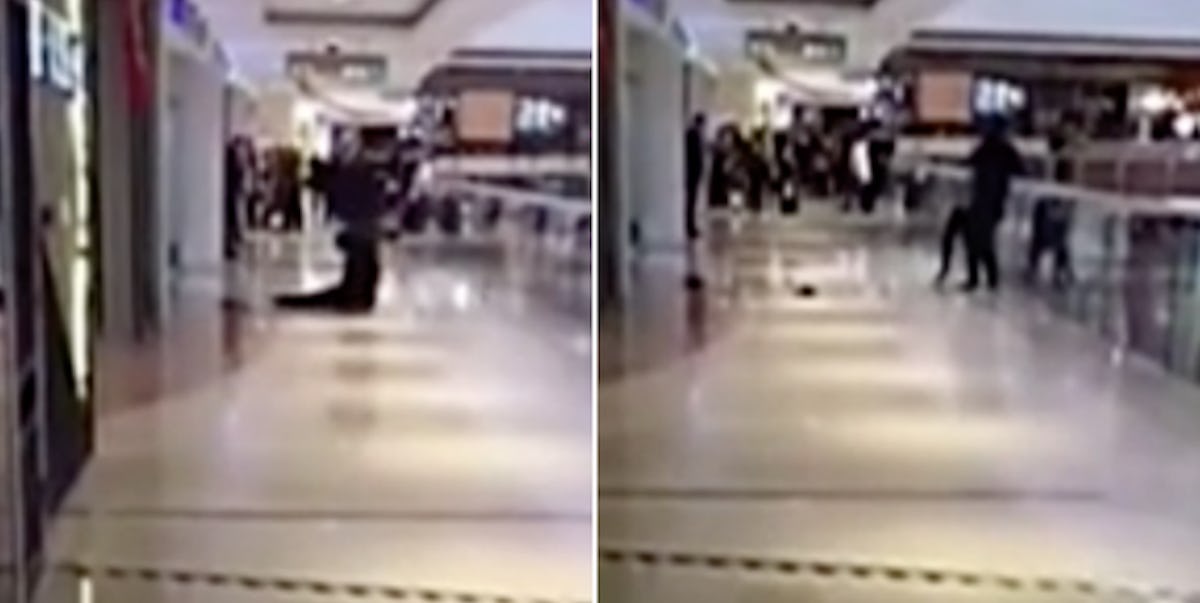 Man Tries To Throw GF Off Mall's Balcony While Shoppers Stand Back And Watch
iqiyi
Shocking footage has revealed the moment a furious man tried to throw his girlfriend over a third-floor balcony inside a mall.
During the short clip, the woman screams and cries as she desperately clings to the side of the glass balcony.
Fortunately, despite her boyfriend's attempts, the woman manages to stop him.
She seems to be unable to fight back in the incident in Dalian Tianxing Roosevelt Shopping Center in Liaoning, north China, as he drags her across the floor.
When they reach the balcony, it appears the man tries to push the woman off the edge, as she cries and screams.
He was also reportedly grabbing her hair as he attempted to lift her off the side.
And throughout the short clip, no shoppers or mall employees attempt to intervene and help the woman.
The man was unsuccessful and the woman was able to escape during the incident on February 1, the People's Daily Online reported.
The Chinese news outlet said the couple had been arguing beforehand, according to a police report.
Officers arrived at the scene shortly after.
People in China were outraged by the footage — one person commented, "How does this person have a girlfriend?" and one wrote, "Whatever the reason, a man should not fight a woman."
The video follows a number of incidents at malls in China in recent months.
In November, CCTV footage emerged of a woman dropping her baby grandson 30 feet to his death off the side of an escalator.
The grandma reportedly lost her footing on the moving staircase and stumbled, losing the baby off the side.
And last July, a clip showed a man falling off the side of an escalator while holding his two-year-old son.
The child died at the scene, a mall in Daqing, and the father later died in hospital.
Citations: People's Daily Online