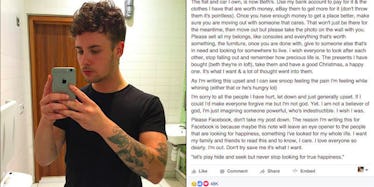 Man Commits Suicide After Posting Heartbreaking Status About Christmas Gifts
Facebook
A 20-year-old resident of West Yorkshire, England committed suicide on Monday, December 12, after sharing a final note in a public post on Facebook for friends, family and the world to read.
Kieran Lister posted a long status on Facebook outlining his struggle for happiness and how heartbroken he was after his girlfriend ended their two-year relationship.
In the heartbreaking post, he tells his ex, Bethany Delaney, where she can find her Christmas presents, saying he wants this Christmas to be "a happy one."
He says,
I wish everyone to look after each other, stop falling out and remember how precious life is. The presents I have bought (beth they're in loft), take them and have a good Christmas, a happy one. It's what I want & a lot of thought went into them.
Lister cited his recent breakup from Delaney as a source of insurmountable pain, though he insisted,
This isn't Beth's fault at all, we both just weren't right for each other in the end... I guess people slowly move apart from each other and I would do anything to stop this but it's something that I have no control over.
You can read the post in its entirety below.
In a series of "last wishes," Lister requested friends and family remember him by playing his favorite song, "The Circle Of Life" from "The Lion King" and look after his dog, Snoop.
To Delaney, he left his apartment, his car and his clothes, and he also listed what she can sell of his that will make her some money.
He advised her,
Use my bank account to pay for it & the clothes I have that are worth money, eBay them to get more for it (don't throw them it's pointless). Once you have enough money to get a place better, make sure you are moving out with someone that cares. That won't just be there for the meantime, then move out but please take the photo on the wall with you. Please sell all my belongs, like consoles and everything that's worth something, the furniture, once you are done with, give to someone else that's in need and looking for somewhere to live.
The post has racked up over 20,000 shares.
According to MetroUK, a West Yorkshire Police spokesman said,
At 7:42 pm on Monday, December 12, police received a call expressing concerns for the welfare of a 20-year-old man who had gone missing from his home in Churwell and had last been seen earlier in the day... Enquiries were carried out and searches conducted and the man was found dead in the Cottingley area at about 1:40 am on Tuesday. The death is not being treated as suspicious and the Coroner's Office has been informed.
As his final request, Lister asked Facebook not to take the post down, as he hoped it would raise awareness and act as an "eye opener" for others struggling with mental illness.
If you or someone you know is struggling with mental illness and/or suicidal thoughts, you can find help by calling the National Suicide Prevention Lifeline at 1-800-273-8255.
Citations: Boyfriend's heartbreaking final Facebook post telling ex where to find her Christmas presents Read more: http://metro.co.uk/2016/12/18/boyfriends-heartbreaking-final-facebook-post-telling-ex-where-to-find-her-christmas-presents-6330122/#ixzz4TDLQDhVH (Metro)