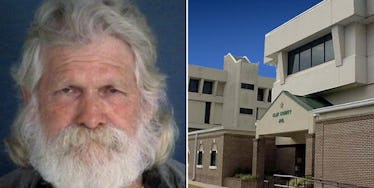 Man Who Escaped Jail, Stole Newborn's ID Caught After Dumb Mistake 40 Years Later
Police/bhide-hall.com
A man who allegedly lived under the identity of a dead baby for 40 years after escaping from prison has turned himself into police.
Stephen Michael York, 64, has lived as Joel Dean Hanes since about 1975 — getting married under the name and using it to register his driver's license and open a bank account, according to court documents.
The real Hanes died at just two weeks old in 1949, and it's unclear how York adopted his identity.
But by doing so he managed to hide from the law in plain sight, and managed to avoid justice for more than 40 years, despite receiving a number of traffic tickets in Florida, court papers say.
After decades of living as Hanes, an investigation into York's true identity was launched after he was involved in a car crash in Clay County in August 2016, the Florida Times Union reported.
He handed police ID showing Hanes' name — but when it was flagged as a name belonging to a dead person, he gave them a second ID, this time showing his real name.
An investigation by the Florida Highway Patrol resulted in an arrest warrant being issued on January 10, and York handed himself in on Friday.
York is facing a number of charges, including the fraudulent use of the identity of a deceased person, insurance fraud and possession of an illegal driver's license.
He was initially jailed for armed robbery, but managed to escape from jail in North Carolina and was never tracked down.
In the time since, York got married as Hanes — and he was accused of domestic violence before the couple divorced.
Among other acts, he bought vehicle insurance and filed claims for several crashes under Hanes' name, court papers say.
It's unknown why Hanes' name wasn't flagged sooner by authorities.
In total, he has been cited nearly 50 times by police since 1986.
He is being held at Clay County Jail on $30,000 bond.
Citations: Records show Middleburg man, a former prison escapee from North Carolina, used dead child's ID for years (Florida Times Union)