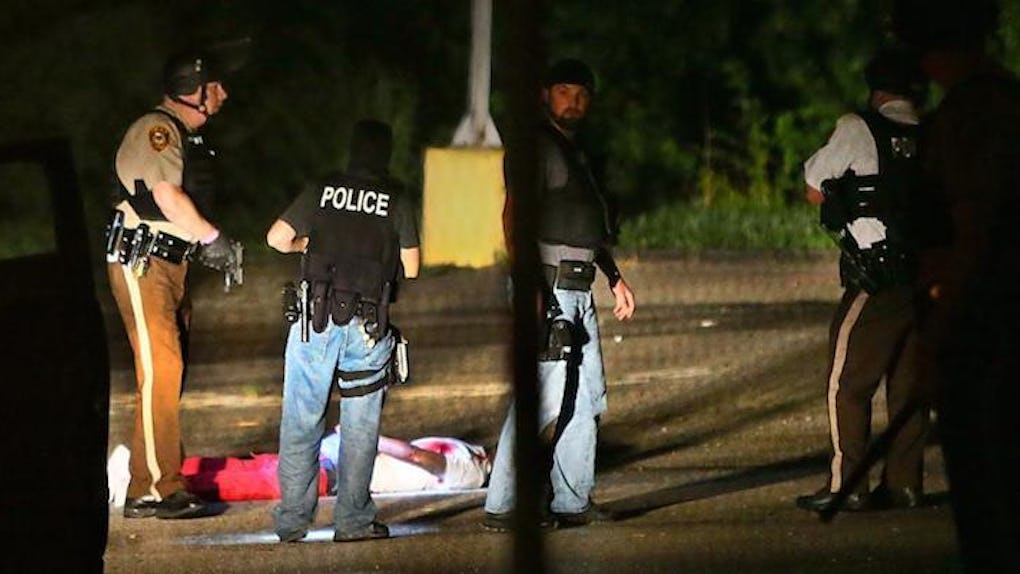 Twitter
Man Shot During Ferguson Protest Has Now Been Charged With 10 Counts
The 18-year-old who was critically injured by police during a protest in Ferguson was charged with 10 counts of three offenses.
Tyrone Harris, Jr. was shot by four officers after fleeing a gunfire exchange between two rival groups at around midnight on Sunday -- the one-year anniversary of Michael Brown's death.
St. Louis County Police Chief Jon Belmar said the two groups fired approximately 40 to 50 gunshots in less than a minute, The Washington Post reports.
The detectives were following Harris, Jr. in an unmarked SUV and reportedly turned on their emergency lights before he fired at them with a stolen pistol.
All four officers fired multiple times from inside the vehicle and again when they got out.
Harris, Jr. remains at a local hospital where he is reported to be in critical condition.
Mashable reports, earlier today, authorities decided,
[Harris, Jr. is charged with] four counts of Assault on Law Enforcement in the First Degree, five counts of Armed Criminal Action, and one count of Discharging or Shooting a Firearm at a Motor vehicle.
Bond was set at $250,000 and can only be paid in cash.
His father said he was told the firefight between the two groups may have been caused by a disagreement over a television.
Someone attending the protests shot the video below of Harris, Jr. lying face down in handcuffs after being shot.
pic.twitter.com/dsrEDWV1Bs — Search4Swag (@search4swag) August 10, 2015
The 18-year-old was one of at least three victims of the shooting that night.
BREAKING: State of emergency declared in St. Louis County due to #Ferguson unrest http://t.co/BRXdA1bCl3 pic.twitter.com/BVg7ZiYMgK — RT America (@RT_America) August 10, 2015
Harris, Jr. was shot about a half of a mile away from where Michael Brown was gunned down by Officer Darren Wilson.
Eerily similar to exactly one year ago. There are no words. #Ferguson pic.twitter.com/m7Hdm23XLA — Bipartisan Report (@Bipartisanism) August 10, 2015
Citations: Police shoot and critically injure man they say opened fire during Ferguson protests (The Washington Post), 18 year old shot by police after Ferguson protests erupt in gunfire (Mashable)