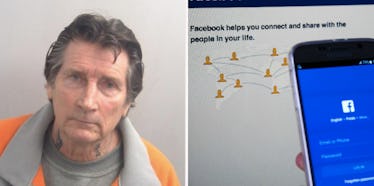 Man Arrested For Child Abuse After Accidentally Posting Lewd Pics To Facebook
Essex Police/REX/Shutterstock
Police caught a pedophile when he accidentally posted sexual images of children on Facebook.
David Grant sexually abused a girl under 13 for over two years, and police also found "tens of thousands" of images featuring child abuse.
The 66-year-old painter and decorator from Essex, England, admitted several offenses at Basildon Crown Court.
And judge David Pugh said he had shown "no remorse" and jailed Grant for six years, the Essex Echo reported.
His young victim is now receiving therapy, and her mother told the Essex Echo she wanted to see Grant receive a longer sentence.
She said,
My daughter just wanted this to be over so she can get on with her life.
Grant was initially arrested last August when he posted the abusive images to Facebook and told police he thought underage girls were "attractive and pretty."
But after being bailed on the condition he did not have contact with children, Grant ignored the ruling and continued his campaign of abuse against the young girl.
A police search of his computer revealed four videos of Grant abusing his victim, as well as pictures of children secretly taken during his regular vacations to Thailand.
Following his first arrest, the court heard Grant told the victim he was "going away" and asked if she wanted a "goodbye massage."
He later told police he didn't see how the abuse was harmful because the pair "enjoyed it."
Speaking after the sentencing, detective constable Joanne Watts said,
This is a one of the most harrowing cases I have investigated in my career. Grant put his victim through a horrendous ordeal and his imprisonment is testament to our hard work and determination in bringing sex offenders to justice. Grant will remain on the sex offenders register for the rest of his life and the victim and family can now start to move on knowing they are safe from this evil predator.
He admitted seven counts of sexual assault of a child under 13 and one count of sexual activity in the presence of a child, on about 30 occasions.
Grant also pleaded guilty to possessing indecent photographs of children, three counts of making indecent images of children and two counts of taking an indecent photograph of a child.
Citations: Sex tourist branded an 'evil predator' after secretly filming himself abusing young girl is jailed for six years (Essex Echo), Paedophile caught out when he accidentally uploaded child abuse to Facebook Read more: http://metro.co.uk/2017/02/20/paedophile-caught-out-when-he-accidentally-uploaded-child-abuse-to-facebook-6460060/#ixzz4ZGD6Wyfe (Metro.co.uk)