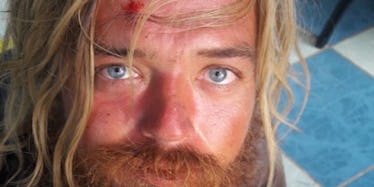 Man Who Went Missing 5 Years Ago Found Walking Barefoot 6,500 Miles From Home
Facebook
A 39-year-old man who has been missing for five years has just been found 6,500 miles away from his home in the Amazon jungle.
After vanishing back in 2012, Anton Pilipa walked from his home in Vancouver, Canada all the way to the jungles of Brazil barefoot.
Pilipa's family and friends spent years looking for the missing man, who suffers from mental health issues. They were starting to lose hope when they received a random phone call in November.
Apparently, a Brazilian police officer had spotted a very disheveled-looking Pilipa "shuffling down a dirt track" toward the dangerous northern Brazilian state of Amazonas while out on patrol.
The female officer initially thought Pilipa was a homeless beggar, since the dirty, barefoot man had no passport or form of identification in his possession.
Authorities worked with several international agencies to locate Pilipa's family, who have since flown down to Brazil to be united with the long-lost man.
During an interview with BBC, Pilipa said,
I know that I am very lucky to be alive. I am very happy to be able to return to my family.
Although Pilipa trekked across two continents mainly on foot, he did manage to get a few rides and hide on lorries for part of the 6,500 trip.
Pilipa's brother, Stefan, told MailOnline,
I was stunned. I told myself that he was dead. Because that was the only thing I could come up with that explained his absences. But in my heart of hearts, I didn't think he could be. I was really shocked. I feel amazed that he's alive and had made it that far.
Stefan claims his brother, who is suspected to be schizophrenic, had expressed his desire to visit the National Library of Buenos Aires located in Argentina.
After finally making it to the library, Pilipa was unfortunately not allowed to go inside because he didn't have any form of identification on him.
From there, he decided to meander over to Brazil, where he survived by eating berries, fruit and food that had been thrown in the trash.
During his five-year journey, Pilipa says he was mugged several times as he made his way through a number of countries including the United States, Mexico, Guatemala, Costa Rica, Panama, Colombia, Venezuela, Argentina and finally, Brazil.
According to Stefan,
He looked pretty rough. The rigors of his journey took a toll on his body and face. And he had a lot more hair than last time I saw him.
Records indicate that Pilipa was due to appear in court for assault and weapons charges shortly after he vanished in 2012.
However, Pilipa's family blames his disappearance on his mental condition.
Citations: Man who went missing five years ago found 6,500 miles from home walking barefoot (Metro UK)