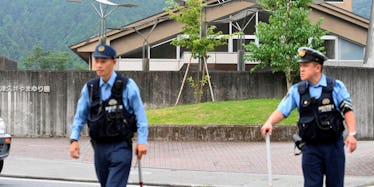 Report: A Man With A Knife Killed 15 People At A Medical Facility in Japan
REUTERS
Update 9:08 PM ET:
According to AP, the Japan knife attack is one of the country's worst mass killings in several generations.
Update 7:01 PM ET:
NHK originally reported 19 dead and 15 injured; the death toll is now listed at 15, with 45 injured.*
According to AP, 19 people were killed and 20 others were injured following a knife attack in Sagamihara on the outskirts of Tokyo, Japan.
The country's national broadcaster, NHK, is reporting the suspect responsible for the attack is said to be a former employee at a medical facility for handicapped people.
Differing reports have surfaced regarding death and injury tolls, but there is currently video footage of medical professionals and ambulances surrounding the facility.
The report also states the knife-wielding suspect, age 26, turned himself into police and was arrested.
*Editor's Note: The title of this article has been amended from 19 to the current death count of 15. This story is developing and will be updated as more information becomes available...
Citations: At least 15 killed, dozens injured in knifing near Tokyo (AP), 15 dead in Sagamihara knife attack (NKH World)