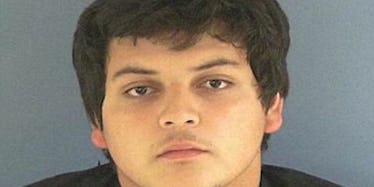 Man Kills GF's Cousin And Rapes Her Body Just 'To Know What Murder Felt Like'
Okeechobee County Sheriff's Office
Christopher Shows, a 21-year-old man from Florida, just admitted to killing a woman and raping her body — just because he wanted to know what murder felt like. 
The 25-year-old victim and mother of four, Amanda Suarez, was allegedly shot in the head by Shows at her home near Okeechobee, Florida, on December 7, MailOnline reports.
Apparently, the man turned up at Suarez's home and tried to make sexual advances at the woman.
After Suarez turned him down, Shows became angry and left the residence to retrieve a .22 rifle from his truck.
Shows barged back into the house and allegedly opened fire on Suarez, then dragged her body into the kitchen and proceeded to have sex with her.
It remains unknown whether or not Suarez was alive when Shows carried out the sexual assault that followed the shooting, according to detectives.
Investigators claim Suarez's 2-year-old daughter was in the house while this horrific crime unfolded.
Shows was arrested by Okeechobee Police on Monday, December 19, and has confessed to the gruesome murder, according to MailOnline.
Okeechobee County Undersheriff and Sheriff-elect, Noel Stephen, said Suarez was a "good wife" and a "good mother."
He also added, "Everything [was] going their way, until they crossed paths with this sad individual."
Apparently, Shows and Suarez initially met while he was dating her cousin.
Police say Shows had visited her home prior to the tragic incident, which is why Suarez's large guard dog did not bark when the man turned up at her house on the day of the attack.
Several days after the attack, detectives found Suarez's blood-covered cell phone on the side of a nearby road.
Upon searching through the data on Suarez's cell phone, MailOnline reports that police found a photo of Shows sleeping on Suarez's couch, therefore placing him at the scene of the crime.
According to Undersheriff Stephen,
In his confession, it was just [that] he wanted to know what murder was about. Unfortunately, it was no rhyme no reason. He just wanted to know what murder felt like.
Yeah, talk about one seriously twisted individual.
As a result of his appalling actions, Shows now faces a myriad of criminal charges, including first-degree premeditated murder, armed burglary of an occupied residence with a battery, desecration of a body, attempted sexual battery, grand theft and tampering with evidence.
Citations: Man, 21, killed his girlfriend's cousin and then raped her because he wanted to know 'what it felt like to shoot someone and have sex with the body' (MailOnline)