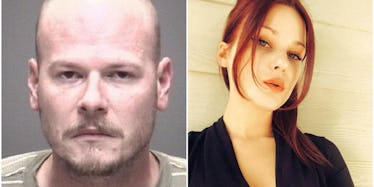 Man Kills Ex And Hides Dead Body Smell With Candles: He 'Wanted To See Her Die'
League City Police Dept/Facebook
A man killed his ex-wife, stored her body in his home over Christmas and placed scented candles around her to mask the smell of her rotting corpse.
Shaun Hardy, 32, stabbed and suffocated Anne-Christine Johnson, 30, with a plastic bag after she visited him at his home in League City, Texas, on December 8.
The two got into an argument, and Johnson positioned a knife toward her stomach as if she was going to stab herself, reports the Houston Chronicle.
Hardy then kicked the knife into her so hard, it dented his shoe, according to court documents.
As she suffered from the wound, Hardy grabbed a plastic bag and placed it over her head to "put her out of her misery."
Johnson was filed as a missing person. During an investigation, police managed to trace her cell phone to Hardy's home.
He allegedly confessed to her murder on December 30.
Officers found her body wrapped in plastic surrounded by candles in the garage.
The body was discovered after an investigating officer followed a strong smell. She was wearing Christmas pajamas.
Ammonia had been used in a bid to wipe blood off the floor.
The murder weapon had been placed in a box, police said.
According to ABC13, one of the statements in a probable cause document read,
He stated that he just wanted to see Anne die.
The killing comes after a lengthy custody battle over the couple's 5-year-old son.
It is believed Johnson was visiting Hardy that day out of fear for her son's safety.
They split up in 2015 and Johnson took out a restraining order against Hardy. That was after he allegedly beat her, sending her to the emergency room. Charges were never filed.
Hardy is being held in Galveston County jail on a $1 million bond.
The police investigation continues.
Citations: League City man confesses to killing ex-wife to 'put her out of her misery' (Houston Chronicle), EX-HUSBAND ALLEGEDLY ADMITS TO BRUTAL MURDER OF LEAGUE CITY MOM (abc13)