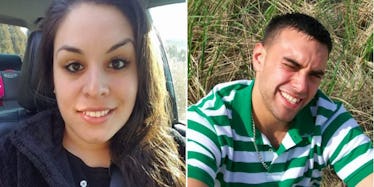 Man Injects GF With Heroin And Films Her Having Sex With Dog After Raping Her
Facebook
During a "week of hell," Gabbe Rowland was repeatedly injected with heroin and forced into a sex act with a dog by her boyfriend.
Three and a half years on, she has spoken out about the horrific ordeal she suffered at the hands of her ex, Justin Mustafa.
For a week, Mustafa, who was jailed for his crimes, tortured his girlfriend -- forcing her into a series of disgusting and degrading acts.
Gabbe, from Cape Cod, Massachusetts, eventually escaped, and Mustafa was jailed for six years.
In a bid to give domestic abuse survivors a voice, Gabbe has shared her harrowing story.
She told The Sun she got pregnant with his baby shortly after he was released from prison in January 2013, but Mustafa became adamant she had cheated on him.
Their relationship deteriorated and she walked out one night after a row where he called her a "little whore."
They reconciled, but Gabbe had suffered a miscarriage -- and she believes the stress put on her by him was to blame.
She finally left him in May 2013, but he bombarded her with texts, prior to the start of the horrific physical abuse on June 29.
After picking her up from a friend's, she said he pulled into a quiet place and told her to make a fist.
Gabbe said,
He quickly pushed a vial of heroin into my arm and I was powerless -- it happened so quickly and I was so afraid of what he might do if I pulled away.
Gabbe was not a drug user, so the heroin affected her "horribly," making her sick, and the injections continued every day for a week.
During that time, he drove her to a wood where he raped her, and then forced her to give his pet pit bull oral sex, filming the act.
She said,
That was one of the most degrading things he made me do. After that he told me to go into the bathroom, clean my teeth and go back to give him oral sex.
She finally escaped on July 5, and Mustafa was later sentenced to jail after being found guilty of assault and battery with a dangerous weapon, assault and battery, malicious destruction of property and witness intimidation.
Citations: 'HE MADE ME PERFORM A SEX ACT ON HIS DOG' Woman, 28, recalls torturous 'week of hell' when abusive, jealous boyfriend injected her with heroin, raped her and beat her with a belt (The Sun)