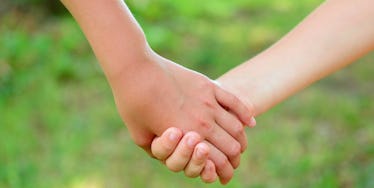 This Man Comforting A Stranger With Disabilities Will Warm Your Heart (Photo)
Shutterstock
A Canadian college student is lifting spirits worldwide after he was photographed comforting a stranger with disabilities on a bus.
According to Huffington Post, 21-year-old Godfrey Cuotto of Hamilton, Ontario boarded the crowded bus last week to go home and was soon greeted by a deaf man he did not know.
The man, who asked Cuotto for a handshake, is named Robert, and he additionally suffers from cerebral palsy.
Most likely overwhelmed by the large crowd, Robert held onto Cuotto's hand as a source of security until the bus made its last stop.
I didn't know if u can post this but I would liking to say thank you to the guy who was seating beside a special needs... Posted by Only In Hamilton on Tuesday, October 6, 2015
Robert reportedly hugged, leaned on and even kissed the hand of the McMaster University student during the 30-minute ride.
Cuotto told Huffington Post,
I thought I was getting pranked at first, but he just needed comfort. I just allowed it, like what am I going to do? Sometimes you just have to be selfless and put someone else's needs above yours.
It appears Cuotto was not aware of Robert's conditions until one of Robert's relatives reached out to him on Facebook.
Cuotto told Toronto radio station KiSS 92.5 it was his mother who taught him to be so compassionate. He said,
I was raised by a queen.
Many comments on the now-viral Facebook post proclaim Cuotto to be the definition of a "real man" who is deserving of a blissful future.
One might also note being reminded of great parenting is arguably more refreshing than being reminded of "good people."
Citations: Hamilton Man Godfrey Cuottos Act Of Kindness Is Making Him An Internet Hero (Huffington Post)