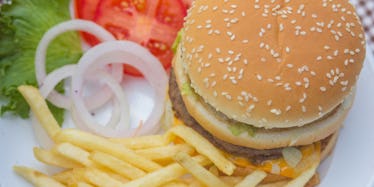 Man With Herpes Was Arrested After Allegedly Spitting On A Cop's Burger
Shutterstock
A Louisiana fast food employee was reportedly arrested over the weekend for spitting on a police officer's hamburger.
According to The Advocate, a lieutenant with the Baton Rouge Police Department ordered a hamburger at a Dairy Queen at 3:30 pm on Sunday and quickly observed his food had been tampered with.
A police report said,
The lieutenant stuck his finger into the substance attempting to determine what it was and verified the substance resembled saliva.
The store manager was then informed of the spit, which led to an examination of surveillance video featuring the worker who made the burger.
Elijah Johnson, 21, was reportedly seen walking off with a hamburger bun, seemingly under the impression he was out of the security camera's range.
But the footage allegedly showed Johnson putting his mouth up to the burger before walking back to his work station and adding the final ingredients.
Johnson denied spitting on the burger when he was questioned by police and reportedly even gave a false name and birth date.
It appears he did this because he has an outstanding warrant with the Baton Rouge Constable's Office.
Johnson later revealed he has herpes as well as several other diseases, but he did not admit to the crime.
He was arrested for mingling harmful substances and resisting an officer before being booked into East Baton Rouge Parish Prison, where bail was set at $4,000.
Johnson may face additional charges following the results of a DNA test to determine if the saliva on the burger belongs to him.
Oral herpes can be contracted by kissing a carrier, though it's not clear what type of herpes Johnson has or whether the police officer would have caught the virus by taking a bite of the contaminated burger.
Citations: Herpes-infected Dairy Queen worker arrested for allegedly spitting on Baton Rouge police officer's burger (The Advocate), Oral Herpes (American Sexual Health Association)