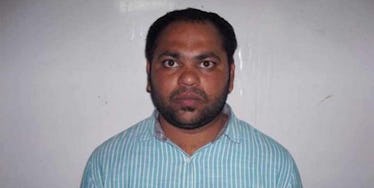 This Man Called In A Fake Terror Threat To Get Out Of A Vacation With His Girlfriend
Twitter
In a piss-poor attempt to get out of a holiday vacation with his girlfriend, one man decided the most effective plan would be to shut down their flight (and the whole airport) with a fake terror threat.
Motaparthi Vamshi Krishna, 32, of Hyderabad, India, was in the midst of a marital affair with a Chennai lady in the Southeastern part of Tamil Nadu when she wanted to take things to the next level.
Though she made plans with Krishna to go away on a nice trip together to the state of Goa, Krishna wasn't exactly on the same page.
He had no real desire to go anywhere with the "other woman," so he was desperate to get out of this vacation he promised her.
Basically, Krishna created a fake ticket to give his girlfriend, as he didn't have the money to buy her an actual ticket.
To keep her from realizing her ticket was fake, Krishna generated a new email address under a female alias, using it to contact airport authorities in India and alert them to a fictitious group of guys talking about an airplane hijacking.
With the intention of canceling flights in and out of Chennai, Mumbai and Hyderabad (keeping his girlfriend from going to the airport), Krishna penned an email discussing a made-up, detailed conversation he "overheard" six men having about hijacking flights from those locations.
The email read,
hi sir am female here am doing this mail frim Hyderabad as i don't want to revel my details couse am a female and scared of issues, and mailing u this couse in the after noon around 2pm while having lunch there were 6 guys talking those guys are musclims, they were talking abt plane hijack tommarrow in Hyderabad chennai and Mumbai airport they were talking very slowly but unfortunately i heard few conversations abt this, they were saying all us 23 people have to split from here and have to board flights in 3 cities and hijack them at a time. They spoke some other things also but i couls not hear them as i heard only these few sentences from them, i dont know do am i doing correct or not and they are true or not but heard this so kindly go through this and as i informed this as a duty and a citizen of india and pls dont make me to get into issues.
Airport security took the email very seriously (as anyone would) and had officials keeping a watchful eye until things were sorted out.
Once officers found the email's origin point at an internet cafe (with Krishna's IP address), they utilized CCTV area footage and later arrested him at his home.
Apparently, Krishna had a penchant for cyber crimes and has used technological tactics to fool other women he's been involved with.
Also, it sounds like cheating and lying in relationships (aside from crafting fake terror plots) are regular things for the 32-year-old, as reports claim he's currently married and has a child.
Krishna has been brought up on four different charges and could be sentenced to five years in prison, if convicted.
Maybe next time, he'll just do what normal guys do and cancel on his dates, instead of constructing an entire terror plot.
It's a lot less work, I promise.
Citations: Man faked terror plot to get out of holiday with his girlfriend (Metro.co.uk), Married man sends hijack hoax email to avoid trip with girlfriend (CNN)