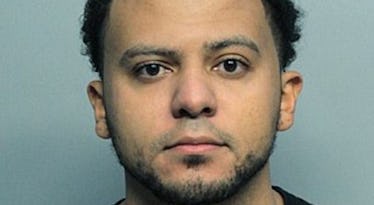 Man Drugs And Rapes GF During 2 Weeks Of Torture After She Loses Gift From Him
Miami Beach Police
A Florida man with artificial arms raped and assaulted his girlfriend for nearly two weeks straight after she lost a purse he bought her.
Evan Xavier Little, 25, was arrested on March 5 after the woman reported him to Miami Beach Police. The two-week incident reportedly occurred near the end of January.
According to the police report, the woman "feared for her safety," as her boyfriend grew extremely upset when he learned she had accidentally left the purse he bought for her in an Uber vehicle.
She said Little hit her with a suitcase and struck her legs with a golf club, DailyMail.com reported.
When the victim showed up at the Miami Beach police headquarters, police said she still had visible bruises on her body.
The officer described the woman's account of the incident in the police report:
The defendant then used pliers and pulled some of her acrylic nails off her. The victim attempted to leave the apartment, but the defendant grabbed her by her hair and started to choke her with his hands.
Little then essentially imprisoned the victim in their apartment for two straight weeks, drugging and raping her. He "held a knife to her neck" and threatened to hurt her if she tried to leave the apartment.
The woman said she did not report the incident earlier because she feared for her life.
He currently faces multiple charges, including aggravated assault with a deadly weapon, false imprisonment and sexual battery.
Because he also has a warrant for a probation violation, Little is being held without bond at Miami Dade's Metro West Detention Center.
According to Patch.com, Wayne Police issued warrants out for Little's arrest because of other domestic violence incidents in 2015. However, authorities were unable to serve them, Detective Capt. Laurence Martin confirmed.
Little has denied the allegations brought against him by the victim in this incident.
Citations: Man with artificial arms 'raped, beat and used pliers to rip off girlfriend's fake nails in two week torture ordeal because she lost her purse' (Daily Mail), Wayne Man Allegedly Kidnapped Girlfriend, Pulled Her Fingernails Off And Beat Her: Police (Wayne Patch), Florida man with artificial arms held girlfriend for 2 weeks, raped her and used pliers to rip her nails off (NY Daily News)