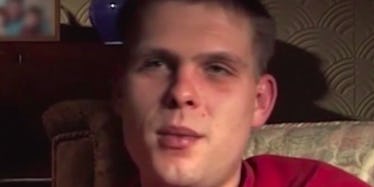 Man Who Chopped Up Wife Has Disturbing Reply When Asked If He Killed Her
Investigation Discovery UK
Mitchell Quy is currently in prison for murdering his wife, chopping up her body and disposing of the parts in several locations.
Now, as he nears the end of his 17-year sentence, extraordinary footage has been released of the moment he gives a chilling reply when asked if he killed Lynsey Wilson. He says,
Wait and find out. Wait and find out.
The shocking semi-confession was filmed before he was put away for the 1998 murder in Southport, UK, and is being used as part of a new documentary called "Faking It: Tears of a Crime."
Quy's confession followed a period of 18 months where he lied about his role in the crime. The investigation was sparked after someone found a torso near a roller coaster.
He appeared on multiple TV shows at the time persisting his innocence and looked as though he was enjoying the media attention.
A journalist took advantage of this, knocked on his door and asked for an interview.
Quy agreed and let him into his home. The incredible footage shows him slouched back in a chair talking openly with the journalist. When first asked if Quy killed Lynsey, he replies,
I'm not going to answer that. I'm not going to answer that question because I don't need to. One day everyone's going to find out, aren't they — I haven't done anything to Lynsey, I'm not capable of doing something like that. Like I say, I'm not going to sit here and say yes or no to stupid questions I've already answered a thousand times.
The journalist repeats the question, and that's when the shocking revelation emerges.
Quy was jailed in 2000. His brother Elliot was sentenced to four years for helping to hack her body apart and dispose of the pieces.
A hearing is scheduled for Spring 2017 to decide if Quy is eligible for parole.