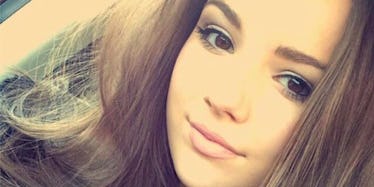 Man Who Choked GF And Poured Beer On Her Charged After She's Found Dead In Dorm
Facebook
The abusive boyfriend of a student found dead inside the halls of Aberdeen University has been charged with assault.
Angus Milligan, 21, was dating 18-year-old Emily Drouet from Glasgow when she died suddenly inside her dorm room on March 18 of last year, The Scottish Sun reports.
After she died, police investigated her death and claimed there was no suspicious circumstances, even though Milligan was physically abusing Drouet at the time.
Milligan appeared in court on February 9 and faces eight charges relating to the case, but he denies all of them.
According to court paperwork, the Edinburgh man has an extensive history of abusing his then-girlfriend from January 1 to March 17.
He's been accused of various acts of assault, such as pouring beer over her, seizing her by the neck, pushing her against a desk and choking her.
The abusive boyfriend also allegedly sent Drouet "grossly offensive" messages and used offensive language while he shouted at her.
It's been reported Milligan assaulted the teenager at Windmill Brae in Aberdeen, where he allegedly slapped her in the face repeatedly and pushed her to the point where she fell onto the ground.
However, police didn't find her death suspicious.
Apparently, the supposed criminal found a new lawyer to deal with the case, and his defense solicitor requested the trial continue on separate dates.
Milligan originally qualified for legal aid funding but resorted to paying for a defense council with private representation for the upcoming court dates.
The ex-boyfriend under investigation will now appear in trial this May over a duration of four days.
During the trial, 21 civilian witnesses will attend and present evidence.
Earlier this month, Emily would have celebrated her 19th birthday.
Her family and friends allegedly held a party in commemoration for the beloved 18-year-old, Daily Mail reports.
They honored her life and continue to keep her memory alive.
Citations: Boyfriend 'poured beer over his law student girlfriend, 18, choked her and slapped her to the ground for months before she was found dead in her halls of residence' (Daily Mail), STUDENT DEATH TRAGEDY Man appears in court over 'choking and pouring beer over' 18-year-old Emily Drouet who was found dead at Aberdeen university (The Scottish Sun)