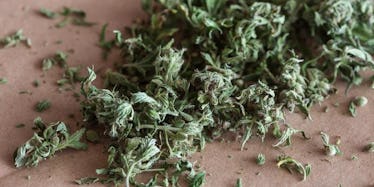 This Man Actually Called The Police To Ask Them For More Rolling Papers
Getty Images
A Virginia man called the police after he had run out of rolling papers for marijuana.
According to Huffington Post, the 24-year-old called 911 Thursday to ask for a delivery of rolling papers.
A release from the Waynesboro Police Department stated Kyle Dustin Head appeared to be "in a disoriented state" when he made the call earlier.
The 911 dispatcher sent two officers to Head's location. They soon found Head sitting in his pickup truck with marijuana all over the passenger seat and dashboard.
Head also had pieces of marijuana on his clothing and appeared to have been sporting a joint in his ear.
He told the officers he meant to dial a friend's phone number when he called 911 and apparently thought the dispatcher he spoke to was this friend.
Police released Head after citing him for misdemeanor marijuana possession.
Citations: Man Calls 911 When He Runs Out Of Rolling Papers, Police Say (Huffington Post), Pot Head named Head has Pot on Head (Waynesboro, Virginia)